Zugriffszählerseit seit 14.11.2002
Auszug aus meiner Autobiographie: Rückblicke
Sieht man ihm schon den späteren Seemannsdiakon an?

Maritimes Outfit war damals jedenfalls gefragt.
In der Hafenstadt Stettin erblicke ich am 16. Januar 1935 im katholischen Carola-Stift nach einer Kaiserschnittgeburt das Licht der Welt. Im Jahre 1935 ist noch Friedenszeit. Die Folgen des 1. Weltkrieges, die Weltwirtschaftskrise und ihre Nachwirkungen werden langsam überwunden. Nach und nach nimmt die verheerende Massenarbeitslosigkeit ein Ende. Es kommt der große Hoffnungsaufbruch nach Wirtschaftschaos und Notstand mit Adolf, dem Rattenfänger: Mitte der dreißiger Jahre geht es durch Ankurbelung der Rüstungsindustrie steil aufwärts und langsam in Vollbeschäftigung über. Meine Mutter Erna, geborene Dollerschell, ist 24 Jahre alt, mein Vater Karl 29. Ich bin ihr erstes Kind. Mütterlicherseits entstamme ich kleinbäuerlichem und väterlicherseits großstädtisch-proletarischem Milieu.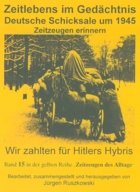 Wir zahlten für Hitlers Hybris - Zeitzeugenberichte aus 1945 über Bombenkrieg, Flucht, Vertreibung, Zwangsarbeit und Gefangenschaft.
für 13,90 € - direkt bestellen bei: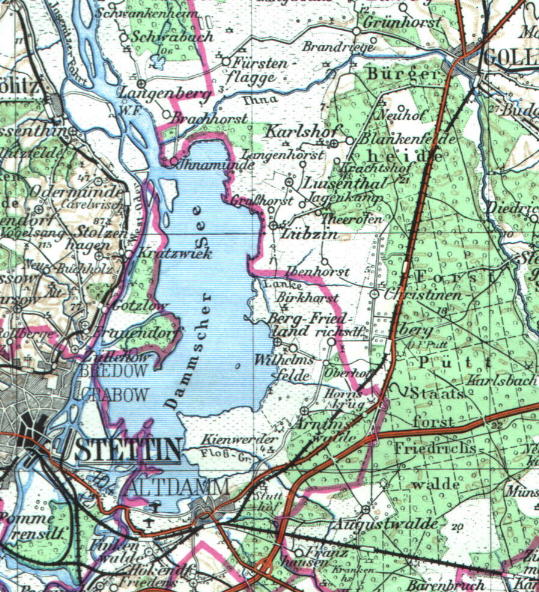 Stettin und Umgebung vor 1945
Stätten meiner Kindheit und Herkunftslandschaft
Vier Jahre lang waren meine Eltern verlobt. Dann wurde in Stettin in der Bergstraße 6 (heute OWOCOWA), wo mein Vater bei seinen Eltern lebte, in der 2. Etage eine Wohnung frei. Karl erklärte, jetzt sei die Zeit zum Heiraten gekommen: 1933, Vater war 27, Mutter 22 Jahre alt, war dann Hochzeit bei ungewisser Zukunft: Man startete gemeinsam trotz Arbeitslosigkeit und lebte schlecht und recht vom Stempelgeld. Dieses wurde immer weiter gekürzt. Zum Schluss gab es nur noch 12 Reichsmark wöchentlich. Aber meine Mutter konnte durch Näharbeiten hinzuverdienen und Schwiegermutter Johanna Ruszkowski sorgte für Kundschaft. Als Karl ihr einmal sagte, sie könne ja sehr viel, nur kochen könne sie nicht, nahm sie sich das sehr zu Herzen und unternahm alles, um diese Lücke zu schließen. Ihre Mutter war gelernte Köchin gewesen und hatte das Nesthäkchen nie an den Herd gelassen.
Mein Vater bekommt im Februar 1934 eine Stelle als Telegraphenarbeiter bei der Deutschen Reichspost mit einem bescheidenen Einkommen und wird später Postkraftfahrer. Der Wochenlohn beträgt anfangs satte 36 Mark! Für die Miete zahlt man im Monat 40,- Mark. Die gute Stube wird für 20,- DM an Vaters Tante untervermietet. Vater ist anfangs häufig die Woche über mit dem Bautrupp auf Montage unterwegs.
Meine Kindheit
Hier verlebte ich die ersten Jahre meiner Kindheit.

Bei meinem letzten Besuch im September 2007 stand das Haus noch.

Die Großeltern , Julius und Johanna Ruszkowski, haben ihre bescheidene Wohnung im Parterre, von außengesehen die zwei Fenster links.

Wir wohnen nahe am Stettiner Hauptbahnhof in einer alten grauen Mietskaserne in der Bergstraße 6 (heißt heute OWOKOWA) in der 2. Etage.
W Szczecinie przezylem pierwsze, wczesne lata dziecinstwa na Bergstrasse 6 ( nazywa sie ona dzis: Owocowa, numeracja pozostaje jak za niemieckich czasów),w poblizu jej zetkniecia sie z Elisabethstrasse (Kaszubska) blisko Dworca Glównego. W tej starej, szarej czynszówce, która przetrwala wojne, mieszkali moi rodzice wraz ze mna na II pietrze, a dziadkowie ze strony ojca - na parterze.
---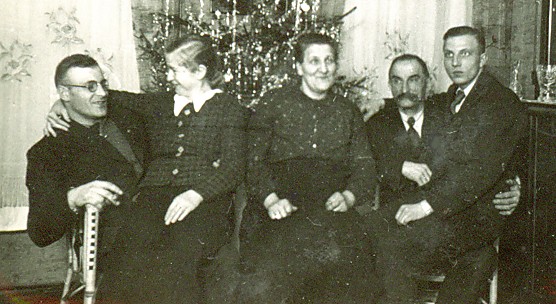 Vater, Mutter, Großmutter Johanna, Großvater Julius, Onkel Werner Ruszkowski
Ich werde von Oma regelmäßig im Kinderwagen ausgefahren, mit Bananen gefüttert und später mit kleingehackten Bonbons vollgestopft. Während meiner Trotzphase bringt meine Mutter mich nie an Omas Wohnungstür vorbei. Oma hat ein sehr gutes Gehör und ist sofort zur Stelle, wenn ich brülle. Dann gibt es natürlich sofort ein Bonbon. Wenn meine Mutter Besuch von einer Freundin erhält, merkt Oma Johanna es sofort und will mitreden. Auf die Dauer ist diese allzu intime Aufdringlichkeit der Schwiegermutter nicht durchzustehen. So bewirbt sich Vater Karl 1937, als er 31 und Mutter Erna 26 ist, um eine Versetzung als Telegraphenbauarbeiter nach Altdamm, einem Vorort Stettins östlich der Oder, und findet dort am August-Frost-Weg nahe am Waldrand parallel zur Stargarder Straße, nicht weit von der Papierfabrik entfernt, eine schöne Neubauwohnung mit Balkon und Ausguss im 1. Stockwerk, das erste eigene, unabhängige Zuhause. In der Etage über uns wohnt Heinzi Navin, mit dem ich oft spiele. Durch die waldnahe Lage unserer Wohnung in Altdamm halte ich mich, meist mit anderen Kindern zusammen, viel im Grünen auf. Fortan werde ich immer eine besondere Liebe zum Wald haben.
Mein Vater soll mit seinem Telegraphenbautrupp für mehrere Wochen nach Bayern versetzt werden, um in dem damals noch unterentwickelten Südstaat Entwicklungshilfe zu leisten. Mutter Erna setzt durch, zusammen mit mir mitreisen zu dürfen. Von Straubing aus werden am Wochenende Ausflüge mit geliehenem Pkw auf den Großen Arber im Bayerischen Wald, an den Königssee im Berchtesgadener Land, nach Braunau am Inn zu Führers Geburtshaus und ins Sudetenland unternommen. Es ist eine wunderschöne Zeit, an die ich mich noch bruchstückweise erinnern kann.
Krieg
Am 1. September 1939 bin ich vier Jahre alt. Unser Führer, der "große Feldherr" Adolf, Gastarbeiter aus Braunau in Österreich, verkündet über den Volksempfänger im Wohnzimmer, es werde in Danzig seit 5 Uhr in der Früh "zurückgeschossen". Meiner Mutter Vater war im 1. Weltkrieg gefallen. Sie weiß also, was Krieg bedeutet. Ich kann mich an ihre Angst bei Kriegsbeginn vor der "Goebbelsschnauze" gut erinnern.
Außer im Wald strolchen wir Kinder auch über den nahegelegenen Truppenübungsplatz und spielen "Soldat". Einmal gibt es im nahen Wald einen großen Menschenauflauf. An einem Baum wird ein Pole erhängt, der irgend ein "Verbrechen" an Deutschen begangen haben soll. Die in Lagern gefangengehaltenen polnischen "Fremdarbeiter" müssen "zur Abschreckung" in langen Kolonnen unter dem Gehängten vorbeidefilieren. Ich erinnere mich auch noch daran, dass sich eines Tages vor einem Haus in unserer Straße ein Drama abspielte, indem die Obrigkeit einen geistig behinderten jungen Mann gegen den Willen der Mutter "abholte".
Im Herbst 1941 werde ich in Altdamm eingeschult - Po przeprowadzce do Dabia, przedmiescia Szczecina, po wschodniej stronie Odry, zostalem tu przyjety do szkoly i uczylem sie dwa lata w tym budynku poczatków pisania i rachowania.

In dem alten

Backsteingebäude

,

das den Krieg überlebt hat und dem ich 1997 und zuletzt 2001 einen Besuch abstatte, lerne dort zwei Jahre lang lesen, schreiben und rechnen. Die schulischen Sitten sind zu der Zeit streng: Alle aufstehen, Kopfrechnen: Wer sich zuerst meldet und richtig antwortet, setzt sich und schweigt. Wer am schlechtesten rechnet, steht am längsten. Wir sitzen nach Leistung im Kopfrechnen, die schnellen Rechner hinten, die schlechten vorne. Die Sitzordnung wechselt ständig, aber ich sitze meistens in den vorderen Reihen und bin froh, dass einige Jahrzehnte später Rechenmaschinen und Taschenrechner erfunden werden. Für kurze Zeit lerne ich auch noch die alte deutsche Sütterlin-Schreibschrift. Ab und zu werden Schmalfilme gezeigt, etwa über die Fabel vom Hasen und Igel.

Piotr Gerasch, schrieb: Ciekawa strona... ja równie¿ chodzi³em do tej samej szkoly w Dabiu, tyle, ¿e kilkadziesi¹t lat póYniej... pozdrowienia z Altdamm = Interessante Seite... ich war auch in diese Schule in Altdamm gegangen - viele Jahre später. Grüße aus Altdamm
Dawid Talarczyk, schrieb:
Podziwiam Pana zapa³ do odnajdywania swoich korzeni na ziemiach polskich, musi to byæ bardzo ciekawa sentymentalna podró¿. = Ich bewundere Ihre Begeisterung für die Datensuche nach Ihren Wurzeln.
Dzen dobry!
Na Pana strone trafilem calkiem przypadkowo, podczas przeszukiwania internetu z haslem "1939 Altdamm".
Bardzo mi milo, ze uczylismy sie w tej samej szkole, chodzilismy po tych samych ulicach, a jakze innych. Lecz i teraz wszedzie w Dabiu (niestety coraz mniej) mozna natknac sie na slady historii. I nie mowie tu tylko o szkole czy kosciele. Przeciez tyle jest budynkow z tamtych lat. Ostatnio bylem niesamowicie zaskoczony widokiem jaki zobaczylem. Otoz mam ksiazke z wydawnictwa Husum Druck pt.: Szczecin na starych pocztowkach". Jest tam zdjecie Dabia wykonane z czasow kiedy Plonia byla zeglowna. W tle widac budynki mieszkalne. Zdjecie pochodzi sprzed chyba 100 lat i do tej pory jest aktualne. Patrzac na pocztowke i na obraz rzeczywisty, widzialem prawie to samo. Moglem nawet policzyc okna w budynkach i kominy na dachach domow. Widok zapierajacy dech w piersi. Stalem niemalze w tym samym miejscu co fotograf przed stu laty...
Ale - dojde moze do sedna sprawy. Chcialem znalezc jakiekolwiek informacje na temat bunkrow w Dabiu. Niestety na stronach internetowych nic nie ma. Liczylem na jakies zdjecia, daty, a tu nic. Znalazlem najrozniejsze strony. Nawet ze zdjeciami lotniska i samolotow z przedwojennej szkoly lotnikow, a o bunkrach nic. I w zwiazku z tym chce sie zapytac czy Panu cos wiadomo na ich temat.
-----------------------------------
Serdecznie pozdrawiam
Andrzej Zajda
tel. 602 12 77 71
Kontakt
P.S.
Szczesliwych swiat.
Guten Tag!
Auf Ihre Seite bin ich ganz zufälligerweise getroffen; ich habe in Internet
das Stichwort "1939 Altdamm" gesucht.
Es ist mir sehr angenehm, dass wir in derselben Schule gelernt haben,
durch die selben Strassen gegangen sind, aber wie anderen. Jetzt kann man in Dabie überall den Spuren der Geschichte begegnen. Ich rede nicht nur von der Schule oder
Kirche. Doch gibt es moch viele Gebäude aus diesen Jahren.
Ich habe ein Buch aus Hasum Druck Verlag: "Stettin auf alten Ansichtkarten".
Da gibt es eine Aufnahme aus der Zeit vor 100 Jahren. Ich habe an derselben
Stelle gestanden, wo damals der Photograph stand. Das war wunderbar, ich
habe alles - wie er - gesehen.
Aber ich habe eine Frage: Wissen Sie etwas um Altdammer Bunkern? Ich habe
sie überall gesucht, aber ohne Ergebnis.
Mit herzlichen Grüßen
Andrzej Zajda
---
mam na imie Zbyszek i mieszkam w Dabiu
szukalem na internecie informacji, a w zasadzie zdjec starego Dabia i wpisujac w wyszukiwarce "Altdamm"
wyskoczylo mi kilka adresow (miedzy innymi Panski).
z tego co wyczytalem, Panska historia nieco wiaze sie z Dabiem
i w zwiazku z tym mam pytanie, czy ma Pan moze jakies stare zdjecia
Dabia i czy jest jakas szansa na to by zobaczyc takowe (jezeli Pan ma)
jezeli to mozliwe prosze o odpowiedz (nawet negatywna)
z gory dziekuje
Zbyszek Zbyszek G. Kontakt
Ich heiße Zbyszek und wohne ich in Altdamm. Ich habe in Internet die Aufnahmen aus dem alten Altdamm gesucht und ich Ihre Adresse gefunden.
Ich habe eine Frage: Haben Sie alte Aufnahmen von Altdamm? Ich bitte um Antwort.
---
dzien dobry, mam na imie Aleksandra mam dopiero 15 lat ale przed 2 latami przeprowadzilismy sie z DABIA do bramsche!ja takze chodzilam do tej samej szkoly jak pan."szkola podstawowa nr 23 Mariusza Zaruskiego"s1 s1 s1 pana strona bardzo mi sie podoba.! Mit freundlichen Grüßen
Aleksandra Gatkowska - Kontakt
Ich heiße Alexandra und bin ich nur 15 Jahre alt. Vor 2 Jahren sind wir nach Altdamm umgezogen. Ich ging auch in dieselbe Schule, die Sie besucgt haben.
Ihre Seite gefällt mir gut.
Mit freundlichen Grüßen
Aleksandra Gatkowska
---
Mein Schulweg führt mich an einem Gefangenenlager für russische Kriegsgefangene vorbei, die damals als Untermenschen gelten und erheblich schlechter behandelt werden als gefangene Engländer und Franzosen.
Sieben Jahre lang wachse ich als Einzelkind auf. 1942, meine Mutter ist 31 Jahre alt, ich 7, wird meine Schwester Inge-Lore geboren. Ich verbringe die Zeit, bis die Mutter wieder aus dem Krankenhaus zurück ist, bei den Verwandten meiner Mutter in Lübzin (siehe Autobiographie).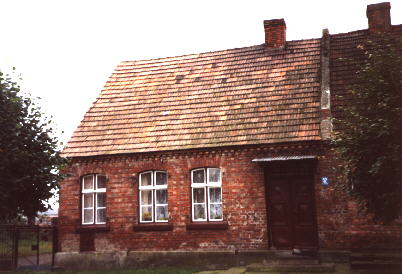 Dort auf dem Bauernhof bei Oma Martha Dollerschell, Tante Frieda, Onkel Hermann Tank und Vettern Manfred und Herbert bin ich gerne zu Besuch. Mit dem Pferdewagen fahre ich mit auf die Wiesen, wo mit der Sense frisches Grünfutter für die Kühe gemäht wird. An den Festtagen gibt es bei Tante Frieda zum Mittagsmahl frische Schoten-Erbsen mit Möhren oder grüne Bohnen mit Bohnenkraut. Vetter Herbert, der kein Gemüse mag, versucht vergeblich, mir die Bohnen mit der Bemerkung madig zu machen, aus Wachsbohnen mache man Bohnerwachs. Zum Nachtisch gibt es Pudding, in Pommern "Speise" genannt, in Farbschichtung: rot und gelb. Im Herbst verströmen die in einer Bodenkammer lagernden Äpfel aus dem Bauerngarten einen bezaubernd süßwürzigen Duft. - Gleich nebenan wohnt Harald Fick, ein gleichaltriger Junge, mit dem ich bei meinen Besuchen gerne zusammen bin. Er verfügt über ganze Heerscharen von Tonsoldaten, dem für Jungen damals wichtigsten Spielzeug. Spielerisch schon sollen künftige Helden heranwachsen! - Wir fahren von Altdamm aus entweder per Fahrrad über Sandwege nach Lübzin oder mit der Bahn bis Stettin und von dort vom Oderbollwerk an der Hakenterrasse aus mit dem Dampfer über den Dammschen See. Einmal setze ich auch alleine mit dem Dampfer über. Den Öl- und Kohlenrauchgeruch der Maschine und deren rhythmische Geräusche habe ich noch heute deutlich in Erinnerung.
| | |
| --- | --- |
| | im Alter von etwa 8 Jahren zusammen mit meinen Eltern und meiner 1945 verstorbenen Schwester Inge-Lore |
Mein Vater wird kurz darauf zusammen mit seinem gesamten Bautrupp zu einer Nachrichteneinheit als Soldat eingezogen und weilt relativ gefahrlos im blitzkriegbesiegten Frankreich, längere Zeit im Mittelmeer-Kriegshafen Toulon. Erst auf dem Rückzug nach der Invasion gerät er in lebensbedrohliche Tiefflieger-Attacken und Bombardements.
Der Krieg kommt auch an die "Heimatfront": Immer öfter muss meine Mutter mit uns Kindern nachts in den Luftschutzkeller. Im Herbst 1943 sollen wir, ich war acht Jahre alt, mit meiner Schule wegen des Bombenkrieges nach Grimmen in Vorpommern evakuiert werden.
Meine Mutter zieht es vor, mit uns auf den Bauernhof ihres Bruders Walter nach Dischenhagen im

Kreis

Cammin in

Hinterpommern

zu gehen.

Bardziej na pólnocy lezy Dzieszkowo (Neu-Dischenhagen) w powiecie Kamien Pomorski (Cammin). Powyzsza mapa pokazuje Szczecin/Stettin i jego okolice na Pomorzu Zachodnim przed 1945.
So werden wir vor den immer heftigeren Bombardements verschont. Einen schweren Angriff erlebe ich im Luftschutzkeller in Stettin mit, als ich Oma Ruszkowski von Dischenhagen aus alleine im Alter von neun Jahren besuche. In Hinterpommern können wir die "anglo-amerikanischen Bomberverbände" in großer Höhe am blauen Himmel in Schwärmen silbern glitzern sehen und das schauerliche Dröhnen der vielen Motoren hören, nachdem die Bombenlast über Stettin und den Pölitzer Benzinwerken abgeworfen worden war. Die Rauchschwaden von Pölitz verdunkeln auch bei uns den hinterpommerschen Himmel. Ansonsten ist es in Dischenhagen bis Anfang 1945 paradiesisch ruhig. Für mich sind die beiden Jahre in dem stillen Dorf idyllisch. Ich befreunde mich mit einem gleichaltrigen Jungen von einem Nachbarhof. In der kleinen Dorfschule mit nur zwei Klassen werden gleichzeitig mehrere Jahrgänge unterrichtet. Hier wird mir das kleine Einmaleins beigebracht. Der Dorfschullehrer hat noch einen Rohrstock, von dem er des öfteren Gebrauch macht. Auf dem Hof meines Onkels leben seine Frau, Tante Erna, deren zweijährige Tochter, meine Cousine Ruth, und meine Großtante Emma. Außer uns ist noch Frau Irmgard Jaeger aus Hagen in Westfalen mit ihrer kleinen Tochter Ulla als Evakuierte einquartiert. Wir leben alle in enger Lebensgemeinschaft auf begrenztem Raum und aus einem Kochtopf und beteiligen uns an den täglichen landwirtschaftlichen Arbeiten, die vor allem von Tante Erna und dem polnischen Fremdarbeiter Jan erledigt werden.
Ein Ackerpferd, das, wenn es Koliken hat, auf dem Hof immer in die Runden getrieben wird, steht für die Arbeiten zur Verfügung. Auf dem Hof liefern etwa sechs Kühe die Milch, einige Schweine das Fleisch und die Hühnerschar die Eier. Es wird auch ein schwarzer Schafbock gehalten, dessen fettige, duftende Wolle die alte Tante Emma nach dem Waschen und Auskämmen am Spinnrad strickfertig macht. Ich hüte des öfteren die Kühe. Einmal gerät mir dabei eine Kuh in ein sumpfiges Loch. Das ergibt eine große Aufregung. Die Kuh kann daraus nur mit großer Mühe befreit werden. - In den Sommermonaten sammeln wir im Wald viele Blaubeeren, Preiselbeeren und Pfifferlinge. - An heißen Sommertagen baden wir Kinder in der Stepenitz, einem kleinen Flüsschen. - Nachdem im August die Roggenernte und im Oktober die Kartoffelernte eingefahren ist, wird in der Scheune die Dreschmaschine in Gang gesetzt und mit ohrenbetäubendem Lärm und viel Staub das Korn gedroschen. - Es wird auch selber auf dem Hof ein Schwein geschlachtet, Wurst gekocht und auf dem Dachboden geräuchert. Im Winter wird das Pferd vor den Schlitten gespannt und die Fahrt geht durch die verschneiten Wälder.
Der Krieg geht fast spurlos an uns vorbei. Von der bevorstehenden Katastrophe bekommen wir nichts mit. Der Radioapparat auf dem Hof ist defekt und die gleichgeschaltete großdeutsche Presse ohnehin bis zum letzten Tag auf Siegesoptimismus geschönt. Im Sommer 1943, meine Mutter ist 33, sieht sie ihren Lieblingsbruder Walter zum letzten Mal, als sie ihn mit Pferd und Wagen durch den Wald nach dem Fronturlaub zum Bahnhof Honigkaten fährt. Auf dem Wege offenbart er ihr, dass er den Krieg für verloren und Hitler und seine Helfer für Verbrecher hält. Er habe in Russland zu viel gesehen: "Vom Unteroffizier aufwärts sind das alles Schweine. Diesen Hunden gönn' ich den Sieg nicht. Ich hab' das Gefühl, ich komm' in russische Gefangenschaft und da nie wieder raus." Er setzt sich dafür ein, dass an den polnischen Zwangsarbeiter Jan, der während seiner kriegsbedingten Abwesenheit vom Hof die landwirtschaftlichen Arbeiten erledigen muss, gut behandeln soll. Seine Frau, Tante Erna, die Jan sonst recht kurz zu halten pflegt, liegt während Walters Fronturlaub mit einer infektiösen Erkrankung im Krankenhaus Gollnow auf der Isolierstation und er kann sie nur von der Straße aus in Rufweite sehen. Seine letzte Post kommt im August 1944 aus Rumänien, bevor die Rumänen sich von Deutschland ab und den Sowjets zuwenden. Das besiegelt auch sein Schicksal. Er gilt seither als "vermisst".
Flucht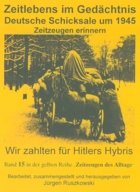 Wir zahlten für Hitlers Hybris - Zeitzeugenberichte aus 1945 über Bombenkrieg, Flucht , Vertreibung, Zwangsarbeit und Gefangenschaft. - Für 13,90 € direkt bestellen bei:

Im Januar 1945 ist mein Vater noch einmal als "Fronturlauber" zu Hause. Zu der Zeit erhalten wir in Hinterpommern die ersten nächtlichen Einquartierungen von Flüchtlingstrecks aus Ostpreußen, die am nächsten Morgen wieder weiterziehen. Der gummibereifte Pferdewagen wird, als die Front immer näher rückt, mit einer Plane versehen und für die Flucht mit den wichtigsten Sachen, wie Bettzeug, Kleidung und Lebensmittelvorräten beladen. Porzellan, Bestecks und Wertsachen werden in Kisten verstaut und im Garten hinter dem Haus vergraben. Wenn wir nach dem Kriege (Hitler glaubt offenbar immer noch an den Endsieg und schickt zu dieser Zeit noch deutsche Truppen, die zum Aufhalten der Russen in der eignen Heimat dringen nötig gewesen wären, nach Ungarn, um die Bolschewiken von dort aus in die Zange zu nehmen) zurückkehren werden, wollen wir die Sachen wieder hervorholen. Aus Bettlaken näht meine Mutter Rucksäcke. Am 28. Febrauar fahren wir noch sorglos zur Konfirmationsfeier meines Vetters nach Lübzin. Am 4.3. sehen wir in der Nacht im Nordosten Feuersschein am Horizont und wundern uns darüber. Niemand ahnt, dass er schon die nahen brandschatzenden Russen ankündigt, die mit überwältigender Übermacht nur auf geringen Widerstand stoßend, in wenigen Tagen große Gebiete überrennen. Die Flucht darf erst nach obrigkeitlicher Weisung angetreten werden. Im kalten frühen März 1945 kommt die behördliche Anordnung: Evakuierte dürfen am 4. März den Ort verlassen, Ortsansässige haben noch zu bleiben. Ich bin 10 Jahre alt, meine Mutter 34, mein Vater als Soldat auf dem Rückzug im Westen. Wäsche wird doppelt und dreifach auf den Körper gezogen, die gepackten, aus Bettlaken genähten Rucksäcke werden geschultert. Tante Erna bringt uns (am 4. März) mit dem Pferdewagen zum Bahnhof Kantreck. Dort langes vergebliches Warten auf einen Zug (den ganzen Tag und die darauffolgende Nacht). Mehrere Flüchtlingszüge fahren ohne uns weiter. Zwischendurch werde ich noch einmal zu Fuß über die Kleinbahngleise zurückgeschickt, um irgend etwas Vergessenes zu holen. Meine Mutter erwartet derweil besorgt meine Rückkehr. In der Nacht der feuerrote Horizont im Nordosten. Die Russen melden sich schon per Telefon aus der nächsten nördlichen Bahnstation (Cammin wurde um den 5./6.3. bedrängt, um den 5.3. setzten sich deutsche Militärdienststellen aus Hammer ab. Hagen vor Wollin wurde am 7.3.von den Russen eingenommen). Es gelingt uns (es muss am 5.3. gewesen sein), im letzten Eisenbahnzug dank der beherzten Durchsetzungsfähigkeit der Mitevakuierten und späteren Freundin der Familie, Irmgard Jaeger aus Westfalen, die Türen einer offenen Kohlenlore von außen zu öffnen und uns gegen den heftigen Widerstand der bisherigen "Passagiere" Einlass zu verschaffen. Wenige Stunden später rücken die Russen ein. Die Flucht im unbedachten Güterwagen, den Russen noch gerade im letzten Augenblick entkommen, führt uns durch das brennende Altdamm und Stettin immer weiter nach Westen. Für die Strecke bis Stettin, die man sonst mit dem Bummelzug in einer Stunde fuhr, benötigt unser Flüchtlingszug eine Woche. Immer wieder bleibt er auf freier Strecke stundenlang stehen, bis die zerbombten Schienen wieder notdürftig repariert worden sind (vermutlich fanden bereits unweit der Bahngleise Kämpfe statt: Gollnow wurde am 7.3. von den Russen bedroht, Lübzin am 8.3.1945. Bei Hornskrug stürmten die Sowjets am 11.3. gegen den bis zum 20.3. von den Deutschen gehaltenen Brückenkopf Altdamm). Es ist riskant, den Zug zu verlassen, etwa um ein menschliches Bedürfnis zu erledigen. Er kann nach kurzem Pfeifen der Lokomotive jeden Moment wieder anfahren. Die russischen "Nähmaschinen" (Jagdflugzeuge) beharken auf der parallel laufenden Landstraße die zurückflutenden deutschen Militärkolonnen mit Maschinengewehrfeuer, verschonen aber unseren Flüchtlingszug (Lange steht der Zug auch vor Altdamm und meine Mutter überlegt ernstlich, dort auszusteigen). Von Stettin aus geht es dann an einem Tag durch bis an unser Ziel, das uns aber noch unbekannt ist. Nur ab und zu hält der Zug, um einige Kinderleichen oder an Erschöpfung gestorbene alte Leute auszuladen. Ein Mann in SA-Uniform reicht unterwegs den durstigen Flüchtlingen auf deren Bitte einen Eimer mit Trinkwasser aus einem Bahnwärterhäuschen in den Waggon. In Grevesmühlen in Westmecklenburg, kurz vor Lübeck, hält der Zug und wir müssen alle aussteigen. Eine Woche lang finden wir zusammen mit vielen anderen Flüchtlingen ein erstes Notquartier in der Fremde im evangelischen Gemeindesaal auf einem Strohlager. Am nächsten Tag kann ich nicht mehr laufen. Meine im offenen Güterwagen angefrorenen Füße heilen aber langsam wieder. Einem Altersgenossen müssen die erfrorenen Zehen amputiert werden. - Dann erhalten wir zusammen mit Irmgard Jaeger und deren Tochter Ulla für zwei Frauen und drei Kinder ein kleines Zimmer mit Strohsäcken auf dem Fußboden bei Malermeister Matthies in der Wismarschen Straße 67. Als meine Mutter in Grevesmühlen von dem geretteten Sparbuch Geld abheben will, ist keines mehr zu bekommen. Alle wollen hier Bargeld abheben, so dass die Sparkassen bald zahlungsunfähig sind.
Die in Dischenhagen zurückgebliebenen Verwandten werden, wie wir erst viel später erfahren, (vermutlich am 7.3.) von den Russen überrollt und erleben deren Vandalismus grauenvoll am eigenen Leibe. Als erstes buddeln sie unsere vor wenigen Tagen im Garten vergrabenen Kisten zielstrebig aus. Auf ihrem Vormarsch durch Ost- und Westpreußen haben sie darin schon hinreichend Erfahrung sammeln können. Die betrunkenen Russen holen die Flaschen mit eingeweckten Blaubeeren aus dem Keller und werfen sie gegen die Hauswand, weil sie keinen Wodka enthalten, zerren die Federbetten heraus und schlitzen sie auf, stochern mit Forken im Heu herum, worin sich die Frauen versteckt haben und feiern Orgien der Vergewaltigung. Dem sind wir noch gerade rechtzeitig entkommen!
Der Krieg liegt in seinen letzten Zuckungen. Ich bin enttäuscht, dass ich nach Erreichen des 10. Lebensjahres in Grevesmühlen nicht mehr Pimpf werden soll, aber meine Mutter meint, das sei nun nicht mehr angebracht. Mit unserem Führer und seiner Hitlerjugend geht es trotz aller Endsiegparolen und Hoffnungen auf Wunderwaffen unzweideutig dem Ende entgegen. Der Traum von der Weltherrschaft des Großdeutschen Reiches ist ausgeträumt. Im April und Anfang Mai fluten in dieser letzten, von deutschen Truppen "beherrschten" Gegend aus Ost und West deutsche Militärkolonnen und endlose Flüchtlingstrecks zusammen. Die Flüchtlinge biwaken in den Kohlsteigen und Gartenwegen mit ihren Pferdewagen, die Soldaten in Wäldern und auf Feldern. Der "Heldentod des Führers" wird bekanntgegeben. Anfang Mai werden weiße Fahnen gehisst und man bedeutet mir, ich solle nun nicht mehr mit "Heil Hitler" grüßen, das sei jetzt vorbei, was ich erst nicht verstehe, denn ich habe mit meinen zehn Lenzen gar nicht assoziiert, dass dieser Gruß etwas mit "unserem Führer" zu tun hat. Für mich ist "heilitler" gleichbedeutend mit "Guten Tag". Es gibt um Grevesmühlen keine Kämpfe. Ein Haus wurde durch eine Bombe zerstört, die einer benachbarten Eisenbahnbrücke gegolten hatte und ihr Ziel verfehlte. Einige SS-Fanatiker holen die weiße Fahne wieder vom Wasserturm und es gibt eine wilde Schießerei zwischen ihnen und den hissenden Wehrmachtssoldaten. Warenlager werden plötzlich zum Plündern durch die Bevölkerung freigegeben.
Der Krieg ist aus
Der erste Jeep mit weißem Stern auf der Kühlerhaube fährt am 3. Mai 1945 durch unsere Straße. Die Amis sind kampflos da. Sie lassen durch einen Lautsprecherwagen in deutscher Sprache ausrufen, nachts gelte Ausgangssperre, diese Gegend sei sowjetisches Interessengebiet und niemand habe es zu verlassen. Fotoapparate und ähnliche Wertgegenstände sind auf dem Marktplatz an die Besatzungsmacht abzuliefern. Unser einfaches Klappbalg-Fotogerät, das die Flucht überstanden hatte, wandert somit "in Feindeshand". Wir sehen die ersten "Neger". Die Amerikaner werden durch Briten abgelöst und wir amüsieren uns über Soldaten in karierten Röcken mit Dudelsäcken, die auf dem Marktplatz paradieren. Die fremden Soldaten essen schneeweißes Brot und ab und zu erwischt ein deutsches Kind mal von ihnen ein Stück Schokolade. Rund um Grevesmühlen unterhalten die Tommys riesige Kriegsgefangenenlager auf Feldern unter freiem Himmel. Später erzählt uns Onkel Hermann, dass er in einem dieser Lager bei Grevesmühlen weilte. Den einzigen Schutz gegen Kälte und Regen bieten Erdlöcher. Die Schulen sind zu Lazaretts geworden. Von dort zieht fast jeden Tag ein Pferdewagen mit Leichen in Papiersäcken an unserem Haus vorbei zum Friedhof. Alle paar Tage geht der Gemeindebote mit seiner Handglocke durch die Straßen und ruft die neuesten Nachrichten der Militärverwaltung aus.
Mein Vater entledigt sich in Lübeck seiner Soldatenuniform und besorgt sich eine Postuniform. Damit wandert er die etwa 40 km bis Grevesmühlen, wo er noch im Mai bei uns eintrifft. Um ein Haar wäre es schief gegangen, denn die unterwegs kontrollierenden Engländer wissen nicht zwischen Post- und Soldatenuniform zu unterscheiden. Auch Hans Jaeger kann sich auf der Flucht vor dem Iwan nach Grevesmühlen durchschlagen. In unserem kleinen Zimmer muss nun auch noch Platz für zwei Männer geschaffen werden. Hans Jaeger bricht schon bald darauf trotz offiziellen Verbots mit seiner Familie gen Westen in die westfälische Heimat auf. Er hat Angst vor Gräueltaten der angekündigten Russen, denn er hatte an der Ostfront schon einiges gesehen und gehört. Wir sind ja immer noch von der Hoffnung beseelt, in die pommersche Heimat zurückkehren zu können und wollen nicht noch weiter westwärts, auch sind wir froh, hier im westlichen Mecklenburg ein Dach über dem Kopf zu haben.
Im Sommer, am 30.6.1945, bin ich zum Erbsenpflücken auf einem nahegelegenen Gut auf dem Feld, als es plötzlich heißt: "Sofort nach Hause: Ausgangssperre." Die Briten ziehen ab, jetzt übernehmen die Russen unser Gebiet. In der folgenden Nacht kommen zunächst einige mit russischen Soldaten beladene altertümlich wirkende Lkws und dann unendliche Panjewagen- und singende Marschkolonnen mit einem Vorsänger und dann einfallendem Kollektivgesang. Ein russischer Liedversrefrain klingt für uns wie "Leberwurst, Leberwurst mit bisschen Sand damang". Die sowjetischen Truppen sind in dem neu eingenommenen westmecklenburgischen Städtchen zwischen Wismar und Lübeck nicht mehr so wild wie im Kampfgebiet, das sie selber erobert hatten. Einzelne Übergriffe soll es hier und da auf den abgelegenen Dörfern geben. Im benachbarten Schützenhaus ist eine Blaskapelle stationiert und übt mit Hingabe und täglich neu den Triumphmarsch von Verdi. Russische Patrouillen durchsuchen die Häuser nach ehemaligen deutschen Soldaten. Meinem Vater passiert jedoch nichts. Er ist heil durch den Krieg gekommen und von Gefangenschaft verschont geblieben und bleibt es auch weiterhin.
Mit einem Handwagen ziehen wir in die Wälder und suchen auf dem Waldboden liegende Zweige, Reisig, Tannenzapfen und roden Baumwurzelstubben als Feuerholz für Herd und Ofen. Die Russen holzen die Wälder für ihren Bedarf ab und sägen die Bäume nach ihrer Weise in bequemer Brusthöhe ab, so dass wir uns gerne die verbliebenen Meter-Stücke über den Wurzeln holen. Einer der holzfällenden Russen spricht etwas deutsch und vermittelt uns radebrechend seine politische Weltanschauung: "Gitler Scheiße, Stalin Scheiße, alles Scheiße!"
In der unmittelbaren Nachkriegszeit wüten Krankheitsepedemien, die wegen fehlender Medikamente und mangelnder Hygiene nicht eingedämmt werden können. So verlieren wir im Sommer 1945 durch eine tödlich verlaufende Diphtherie meine Schwester Inge-Lore im Alter von drei Jahren, weil kein Serum zur Verfügung steht.
Mein Vater schlägt sich noch einmal bis nach Stettin durch, wo seine Eltern noch immer unter polnischer Verwaltung in ihrer alten Wohnung leben. Dort hat sich ein Pole mit dem deutschen Namen Müller mit einquartiert, der sie um ihren polnischen Namen beneidet und sie mit dem Gerücht zum Bleiben animiert, die Deutschen würden wieder zurückkommen. So lehnen sie Vaters Angebot ab, sie mit gen Westen zu nehmen. 1947 werden sie von den Polen dann Hals über Kopf ausgewiesen. Opa Julius verstirbt 70jährig auf der Fahrt von Stettin in den Westen an einem Schlaganfall und Oma Johanna kommt zu uns nach Grevesmühlen, wohnt zunächst mit in unserer kleinen Wohnung in der Bahnhofstraße und später in einem Altersheim. Oma ist überzeugte Anhängerin der "Bibelforscher", um so mehr, nachdem ihr zweiter Sohn, Werner, mein Patenonkel, als Mitglied der Waffen-SS im "Polenfeldzug" sein Leben "für Führer, Volk und Vaterland" gelassen hatte. Von da an mochte sie von "unserem Führer" gar nichts mehr wissen. Onkel Werner war weniger aus Überzeugung als vielmehr, um der Arbeitslosigkeit zu entkommen, bei der SS gelandet.
Schlangestehen und stundenlanges Warten auf ein Brot vor dem Bäckerladen, vor der Molkerei für eine Kanne voll Molke oder Magermilch, bei der Mühle für einen Beutel voll Kleie oder Schrot, gehören zum Alltag. Der Tannenberg-Müller ist als Original bekannt. Oft gibt es erst Ware, wenn der Chor der in der Schlange Wartenden ihm vorsingt: "Das Wandern ist des Müllers Lust". Für den Kuss einer schönen Frau gibt es eine Extrazuteilung. Pferdefleisch in Form von Sauerbraten oder Frikadellen steht obenan auf der Leiter besonderer Genüsse. Die vielen Gäuler vor den Treckwagen aus den verlorenen deutschen Ostgebieten und übriggebliebene Militärpferde finden kein ausreichendes Futter mehr und daher den Weg ans Schlachtermesser. Ein großes Problem ist die Beschaffung von Schuhen, besonders für wachsende Kinder. Unter alte, irgendwo jahrelang in einer Bodenecke verstaubte Schuhe aus hartem, ausgetrocknetem Leder werden Holzsohlen genagelt. So kann man sich bei Wind und Wetter wenigstens draußen bewegen.
Vater findet bald Arbeit in einer Autoschlosserei und kurz darauf wieder als Kraftfahrer bei der Post. Seine ersten Autos werden wegen Benzinmangels noch mit Holzgas angetrieben. Wir haben daher immer genügend Holz zum Heizen und Kochen. Sein Job als Kraftpostomnibusfahrer trägt dazu bei, dass Passagiere vom Lande Eier und Speck springen lassen, um einen der begehrten Sitzplätze für die Fahrt in die Stadt zu ergattern. Die Mangel- und Hungerzeit nach dem Krieg überleben wir nicht unwesentlich durch meiner Mutter Näh- und Strickkünste. Die Devise lautet: "Aus alt mach neu!" Fallschirmseide, Decken und Militäruniformen werden in zivile Kleidung verwandelt. Aus dem Garn von Fallschirmseilen werden Tischdecken gestrickt. Von Bauern kommt Löhnung in Form von Eiern, Speck oder Butter. Der Molkereibesitzer aus Lübzin, Proske, baut in Grevesmühlen mit unternehmerischem Elan eine Käsefabrik neu auf. Fortan gibt es als Nählohn für meine Mutter Harzerkäse in jeder Konsistenz von roh-weiß bis würzig-fließend mit und ohne Maden. Mit dem jüngsten, mit mir gleichaltrigen Proske-Sohn Rudi bin ich einige Zeit befreundet.
1947 wird langsam wieder ein eigenes Zuhause geschaffen, nachdem Proskes uns ihre Wohnung in der Bahnhofstraße 65 überlassen. Die ersten wieder eigenen Möbel kommen von Russen, für die meine Mutter näht.
An eine Rückkehr nach Hinterpommern ist nicht mehr zu denken. Grevesmühlen wird uns zur neuen Heimat und ich verbringe dort entscheidende Jahre meiner Jugend.
In den ersten Nachkriegsmonaten spiele ich viel mit gleichaltrigen Kindern in Gruppen und Horden aus der Nachbarschaft. Wenn wir durch Feld und Wald strolchen, wird im Herbst häufig eine Steckrübe vom Feld "geschlachtet" und sofort verzehrt. Ich befreunde mich mit Hans Konang, *1.9.1934, einem etwa gleichaltrigen Flüchtlingsjungen und Gutbesitzerssohn aus Malwischken in Ostpreußen, der jetzt auch in der Wismarschen Straße wohnt.
1946 kommt das Schulwesen nach dem Krieg nach monatelanger Pause wieder zu neuem Leben. Ein Jahr habe ich verloren. Das 4. Schuljahr vollende ich in Grevesmühlen bei der Lehrerin Frau Daniels. Das 5. und 6. Schuljahr verbringe ich ebenfalls an der Fritz-Reuter-Schule in einer reinen Jungenklasse.
An einige Namen von Klassenkameraden kann ich mich noch erinnern: Günter Dankert, Eberhard Dettmann, später Tischler, Karl-Heinz Drews, *18.4.1935, später NVA-Offizier, Ingo Eggert, *3.8.1933 Lothar Gebühr, Später Arzt in Flensburg, Werner Gollub, *22.12.1934, Ulrich Hinkelmann, damals in den Leistungen recht durchschnittlich, später geistiger Senkrechtstarter und Physiker, Christian Martens, später Schmied, Kfz-Mechaniker und Maschinenbauingenieur, lebenslang in Grevesmühlen verblieben, Adolf Möller, Bauernsohn aus Grenzhausen, war mit mir im Jugendkreis und Posaunenchor, später Förster im Rheinland und 1960 bei Jörg-Michaels Taufe in Dortmund zu Gast, Heinz Moos, Erwin Nordengrün, Karl-Friedrich Nordengrün, später Maler in Delmenhorst, Rüdiger Proske aus Lübzin, Werner Roxin, Hans-Georg Schmeling, *1.11.1934, Manfred Schröbler, später Torwart bei Hansa-Rostock, Klaus Schüler, später überzeugter Marxist, Günter Stappenbeck, *2.5.1935, Kurt Weiß, später Bauingenieur, "Ganther" Wulf.
Der über 70jährige reaktivierte Ostpreuße Eichert wird unser Klassenlehrer. Er ist streng, aber engagiert und vermittelt uns neben einem soliden Grundwissen auch sittliche Werte. Ich habe ihm viel zu verdanken. Deutsche Sprichwörter, Balladen und Gedichte zitiert er immer wieder neu und lässt sie uns auswendig lernen. Matthias Claudius' Winterlied mochte er offenbar besonders gerne. In meiner Erinnerung assoziiere ich das "...der Winter ist ein harter Mann, kernfest und auf die Dauer. Sein Fleisch fühlt sich wie Eisen an. Er scheut nicht süß noch sauer...." mit Eicherts Bericht, er wasche sich jeden Morgen, auch im Winter, kalt und frottiere sich mit einem feuchten Handtuch den ganzen Körper. Auch das Kartoffellied von Matthias Claudius prägt er uns ein, dass ich es heute noch auf der Zunge habe:
"Pasteten hin, Pasteten her, was kümmern uns Pasteten, die Schüssel hier ist auch nicht leer und schmeckt so gut als aus dem Meer die Austern und Lampreten. Und viel Pastet und Leckerbrot verderben Blut und Magen. Die Köche kochen lauter Not. Ihr Herren, laßt's euch sagen: Schön rötlich die Kartoffeln sind und weiß wie Alabaster, verdau'n sich lieblich und geschwind und sind für Mann und Weib und Kind ein rechtes Magenpflaster."
Der über 70jährige reaktivierte Ostpreuße Eichert wird unser Klassenlehrer. Er ist streng, aber engagiert und vermittelt uns neben einem soliden Grundwissen auch sittliche Werte. Ich habe ihm viel zu verdanken. Deutsche Sprichwörter, Balladen und Gedichte zitiert er immer wieder neu und lässt sie uns auswendig lernen. Matthias Claudius' Winterlied mochte er offenbar besonders gerne. In meiner Erinnerung assoziiere ich das "...der Winter ist ein harter Mann, kernfest und auf die Dauer. Sein Fleisch fühlt sich wie Eisen an. Er scheut nicht süß noch sauer...." mit Eicherts Bericht, er wasche sich jeden Morgen, auch im Winter, kalt und frottiere sich mit einem feuchten Handtuch den ganzen Körper. Auch das Kartoffellied von Matthias Claudius prägt er uns ein, dass ich es heute noch auf der Zunge habe:
"Pasteten hin, Pasteten her, was kümmern uns Pasteten, die Schüssel hier ist auch nicht leer und schmeckt so gut als aus dem Meer die Austern und Lampreten. Und viel Pastet und Leckerbrot verderben Blut und Magen. Die Köche kochen lauter Not. Ihr Herren, laßt's euch sagen: Schön rötlich die Kartoffeln sind und weiß wie Alabaster, verdau'n sich lieblich und geschwind und sind für Mann und Weib und Kind ein rechtes Magenpflaster."
Als wir das Lied von der Freiheit und dem Vaterland von Ernst Moritz Arndt bei ihm lernen, bedauert er, dass er uns nur die Verse zum Vaterland beibringen dürfe: "...o Mensch, du hast ein Vaterland, ein heiliges Land, ein geliebtes Land, eine Erde, wonach deine Sehnsucht ewig dichtet und trachtet..... Und wären es kahle Felsen und öde Inseln und wohnten Armut und Elend auf ihr, du sollst dieses Land ewig lieb haben....", die zur Freiheit seien zu lehren verboten. Eines späteren Tages legt er mir nahe, nie Schulmeister zu werden. Da müsse ich mich zu sehr unter die jeweilige herrschende politische Meinung ducken. Am 30.7.1947, am Ende der 5. Klasse schreibt Eichert mir ins Zeugnis: "Bei stetem Fleiß und lebhafter Beteiligung am Unterricht waren die Leistungen immer gut." Bei 28 Schülern stand ich in der Klasse auf der Leistungsstufe an 7. Stelle. Neben Deutsch (Note 2) und Rechnen (2) wird auch Unterricht in Erdkunde (2), Biologie (2), Russisch (3), Zeichnen (2), Musik (2) und Körpererziehung (3), später auch Geschichte (2/3), Physik (2) und Chemie (3) erteilt. Im Fach Deutsch fühle ich mich immer einigermaßen sicher. Am 18.3.1948 erhalte ich im Kinosaal von Grevesmühlen vor der versammelten Schülerschaft nach einem Aufsatzwettbewerb unserer Schule aus Anlass der 100jährigen Wiederkehr der Revolution von 1848 für den besten Aufsatz zu diesem Thema eine Auszeichnung in Form einer Urkunde. In Ermangelung von Russischlehrern werden alle möglichen und unmöglichen Personen als Lehrer eingestellt, die über russische Sprachkenntnisse, aber nicht unbedingt über pädagogische Fähigkeiten verfügen. Von der Sorte ist auch mein erster Russischlehrer. Wir müssen einige russische Liedtexte und Sprichwörter lernen, um im Falle einer Unterrichtskontrolle unsere Künste unter Beweis stellen zu können. Nicht viel besser verhält es sich bei unserer nächsten Russischlehrerin, die wir "Babuschka" nennen. Als ich auf Veranlassung Eicherts mit einigen Jungen meiner Klasse, später als andere Mitschüler, auf die Oberschule wechsele, fällt mir der Anschluß im Fach Russisch besonders schwer. Der Aufenthalt an der Oberschule dauert nur ein knappes Jahr. Dann werden alle unteren Klassen geschlossen an die "Deutsche Einheitsschule - Grundschule" verlegt.
Wir kommen zur "Geschwister-Scholl-Schule", wo wir die 7. und 8. Klasse zusammen mit unseren mitgewechselten Lehrern von der Oberschule, Frau Zellner (Russisch) und Fräulein Wiggers (Deutsch) durchlaufen.
Zu meiner Klasse gehören Anneliese Arendt, *10.1934, Ilse Au/Maaß, *12.1934, jetzt in Bad Bramstedt lebend, Walter Brüdigam (lebt nicht mehr), Hilke Carstensen, *14.10.1934, jetzt in Hamburg ?, Helga Deprie, *31.12.1934, Edith Ebell/Bindernagel, jetzt in Rostock-Lüttenklein lebend, Ingrid Freitag, später Lehrerin in Grevesmühlen, Marianne Grönecke, jetzt in Rostock lebend, Wolfgang Hartmann, jetzt als Chemiker in Chemnitzt lebend, Gerda Höckrich, *21.9.1934, verheiratete Rinnert, lebt in Grevesmühlen, Rotraud Hoffmeister, soll früh geheiratet haben und im Westen leben, Ilse Kelling, jetzt in Hamburg ?, Karin Knakowski, *1934, (lebt nicht mehr), Renate Krimlowski; *30.12.1934, Ulrich Liebsch, soll jetzt in der Nähe von Frankfurt/M. leben, Jochen Luckmann, lebte in Hamburg-Rissen, Christa Lüttjohann, mit Wolfgang Manja in Grevesmühlen verheiratet, Christian Martens, selbständiger Kfz-Mechanikermeister ind Ingenieur in Grevesmühlen, Horst Nagler, *7.8.1934, war Bilanzbuchhalter, jetzt Rentner in Stralsund, Inge Neumann, *23.8.1934, Marianne Pieplies, in Grevesmühlen verheiratet, Siegrid Raabe, Sabine Rabe/Schneider, Anke Reiher, in Schwerin mit einem Arzt verheiratet, Peter Reiher, *14.10.1933, später Zahnarzt in Gerolshofen, Werner Roxin, später Dachdecker (tödlich verunglückt), Dorothea Saborowski, Verkäuferin, Ivar Veit, aus dem Baltikum stammend und zeichnerisch besonders talentiert, später Professor für Akustik (wir haben hin und wieder eMail-Kontakt), Hans-Jürgen Wagenknecht, Lieselotte Wilms, *22.4.35, soll in München leben, Klaus Winter, späterer Kameramann beim DDR-Fernsehen.
Am 28. April 1949, meine Mutter ist 38, ich 14 Jahre alt, wird meine Schwester Karin als Ersatz für Inge-Lore in Grevesmühlen geboren.
Zu der Zeit verdiene ich mir ein kleines Taschengeld, indem ich zusammen mit meinem Freund Hans Gottschalk wöchentlich einmal abends bei einem Damenclub in Knochenarbeit Kegel aufstelle. Einen zweiten Job nehme ich für zweimal wöchentlich für je zwei Stunden am Nachmittag bei einem Seilermeister an, dem ich in seiner Reeperbahn helfe, Hanfseile in verschiedener Länge zu drehen.
Zum Abschluss der 8. Klasse haben wir eine Schulabschlussprüfung zu bestehen. Da mir Sprachen nicht liegen, die zu erlernen Voraussetzung für ein Theologiestudium wäre und ich deshalb Diakon werden will, dazu kein Abitur, wohl aber einen abgeschlossenen Beruf benötige, zum Besuch der Oberschule aber auch entsprechende "gesellschaftliche Voraussetzungen" wie politische Anpassung verlangt werden, verlasse ich die Schule nach der 8. Klasse. Ich will zunächst Zahntechniker lernen und bekomme auch eine Lehrstelle bei einem kleinen Privatbetrieb. Dort habe ich den Eindruck, dass mein Lehrherr voll mit mir zufrieden ist. Nach vier Wochen, erklärt er mir plötzlich, ich eigne mich nicht für den Beruf und müsse innerhalb der Probezeit wieder gehen. Das trifft mich hart und wirft mich in starke Minderwertigkeitsgefühle. Kurz darauf wird mir berichtet, der Vater einer Klassenkameradin, die schulisch recht schwach war, habe auf Grund guter Beziehungen zu meinem Zahntechniker nachgeholfen, dass seine Tochter als Lehrling eingestellt wird. Einen Lehrling konnte der gute Mann aber nur gebrauchen, so dass ich im Wege war.
---
Thomas and Anna Potter, Nashville, TN, USA
translated this for me.
I thank them very much.
---
My Background - Same Site in German - Cities and Scenes of My Childhood
I first saw the light of day 16 January 1935 at the Catholic Carola Hospital in the seaport of Stettin, after delivery by Caesarean section. In 1935, it was still a time of peace. Following World War I, a worldwide economic crisis slowly developed. Little by little, the disastrous massive unemployment came to an end. After all the economic chaos and distress, a great hope emerged with Adolf, the Pied Piper. Through stimulation of the armament industry, the economy rose steeply in the middle of the 1930s, and slowly full employment was established. My mother, Erna, born Dollerschell , was 24 years old; my father, Karl, 29 years old. I was the first child. My mother's family were small farmers; my father's, bluecollar urbanites.

My parents were engaged for four long years. Then, a third-floor apartment be came vacant at Bergstrasse 6, where my father lived with his parents. Karl explained that now was the time to get married. In 1933, when Father was 27 and Mother, 22, they were married and faced an uncertain future. Despite unemployment, they began their married life, barely making ends meet on welfare payments, which were continually
reduced. Finally, there were only 12 Reichsmarks a week. However, my Mother could earn additional income by doing sewing jobs which her mother-in-law, Johanna Ruszkowski , brought in. As Karl once told Erna, she could do very many things, but she could not cook. She took this to heart, and did everything she could to learn how to cook. Erna's mother was a trained cook, but had never allowed her youngest child in the kitchen.

In February 1934, my father was employed as a telegraph worker at a modest salary, and later as a postal truck driver with the German National Postal Service. His weekly pay started at 36 Marks. Rent was 40 Marks a month. The parlor was sublet to father's aunt for 20 Marks. At first, father was often away with his building crew on construction
jobs for a week at a time.

My Childhood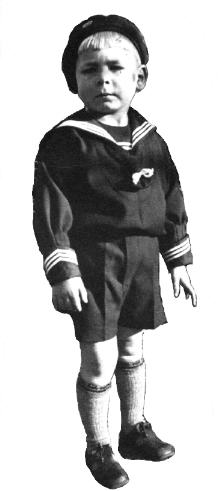 We lived near the Stettin Central Station on the third floor of a large, old graystone apartment building at Bergstrasse 6. My grandparents, Julius and Johanna Ruszkowski, had their own modest apartment on the ground floor. My Grandmother took me out regularly in my baby buggy, and stuffed me with bananas and candy. During my "Terrible Twos" phase, my Mother never took me past Grandma's doorway. Grandma had excellent hearing and immediately appeared whenever I cried. And then, naturally, she promptly gave me a piece of candy.

Whenever my mother had a visitor, Grandma Johanna noticed it immediately and wanted to join in the conversation.Eventually, this all-too-familiar insistence by the mother-in-law was too much to have to stand all the time. So in 1937, my father, Karl, when he was 31 and Mother Erna, 26, applied for a position as a telegraph construction worker in Altdamm, a suburb of Stettin east of the Oder River, and found a beautiful new apartment with a balcony and running water in the kitchen, on August-Frost Way near the edge of the woods parallel to Stargarder Street not far from the paper factory---their own first, independent home. On the floor above us lived Heinzi Navin, a frequent playmate. Because our apartment was very near the woods, I was often outside with the other children. The rest of my life I always had a special love for the woods.

With his work crew, my father was assigned in Bavaria, then an underdeveloped southern province, to help expand the telegraph service. Mother Erna made sure that we could go with him. With a borrowed auto, we took weekend trips from Straubing to the Grosser Arber mountain in the Bavarian Forest, to the Königssee in the Berchtesgaden area, to Braunau on the Inn River, to the "Führer's" birthplace, and into
Sudentenland. It was a wonderful time, which I can only partly remember.

War

On 1 September 1939, I was four years old. Our Führer, the "Great Field Marshal" Adolf, an "alien worker" from Braunau, Austria, announced over the radio in our living room that since five o'clock that morning "return gunfire" had occurred in Danzig. My mother's father had died in action in World War I. She knew then what war meant. I can well remember her anxiety about Goebbel's spouting at the beginning of the war.

As well as playing in the woods, we children played "Soldier" at a nearby military drillfield. Once a great crowd gathered there in the woods. A Pole, who someone said had committed a crime against the Germans, was hanged in a tree. As an intimidation, long columns of the imprisoned Polish "foreign workers" had to file pass the hanging corpse. Also I still remember a drama played out on our street when authorities forcefully removed a mentally handicapped young man despite his mother's
protests.

Entering School in Autumn, 1941 at Stettin-Altdamm

In the fall of 1941, I entered school in Altdamm, where I studied reading, writing and arithmetic for two long years in an old brick building, which survived the war and which I last visited in 1997. Classroom customs were strict then: everyone stood up and did
calculations from memory; whoever went first and answered correctly could sit down quietly. Whoever calculated the poorest, stood the longest. After reciting, the quickest
sat in the back and the slowest in the front. The seating changed constantly, but I sat mostly in the forward rows and was glad that. several decades later, adding machines and pocket calculators were developed. For a short time, I studied the old German Sütterlin script. Once in awhile, a short film, something about the fable of the rabbit
and the hedgehog, was shown. My path to school took me by a camp for Russian prisoners-of-war who were treated as sub-humans and considerably worse than English and French prisoners.

For my first seven years, I was an only child. In 1942 when my mother was 31 years old and I was seven, my sister, Inge-Lore, was born. Until my mother's return from the hospital, I spent the time with my motherís family in Lübzin . I gladly visited there on the farm with Grandma Martha Dollerschell, Aunt Frieda, Uncle Herman Tank and cousins Manfred and Herbert. I rode on the horse-drawn wagon to the fields where fresh
fodder for the cows was cut by scythes. On festive days, Aunt Frieda served a midday meal of fresh green peas with carrots or seasoned green beans. Cousin Herbert, who didn't like vegetables, tried unsuccessfully to convince me that these waxbeans were actually used to make floorwax. For dessert, there was pudding made in red and yellow layers, called "Speise" in Pomerania. In autumn, there was the spicy, sweet smell of homegrown apples stored in the attic.

Next door to my Grandmother's farm lived Harald Fick, a playmate about my age, whose company I enjoyed during my visits. He had complete armies of tinted soldiers, which for boys then were the most important toys. Such play supposedly developed future heroes! We got to Altdamm, either by bicycle over the sand paths to Lübzin or by train to Stettin and then via Oderbollwerk an der Hakenterrasse by steamer across Lake Dammsch. Once I crossed over by steamer alone. I still remember the smell of oil and smoking coal, and the rhythmic noise during a trip I took, when about eight years old, with my parents and my sister, Inge-Lore, who died in 1945.

Soon my father and his whole construction crew were drafted into an army signal unit and spent their time relatively safely somewhere in occupied France, and a longer time there in the Mediterranean port of Toulon. Only during the retreat after the invasion did he come under deadly divebomber attacks and artillery fire.

The war also came to the homefront. More and more, my mother and we children spent the night in the air raid shelter. In Fall 1943 when I was eight years old, we had to be evacuated with my schoolmates because of the air raids on Grimmen in West Pomerania. My mother preferred to go with us to the farm of her brother, Walter, in Dischenhagen in the Cammin district of East Pomerania. So we were spared from the heavier air raids. I lived through a heavy attack in a Stettin air raid shelter, when, at age nine, I went from Dischenhagen alone to visit my Grandmother Ruszkowski. In East Pomerania, we could see the glistening silver flights of English-American bombers high up in blue skies, and hear the terrible droning of the many motors, after the bomb loads were released over Stettin and the Pölitz gas refinery. Even the sky above us was darkened by the columns of smoke from Pölitz.

Otherwise, Dischenhagen was a peaceful paradise until early 1945. For me, both years in this quiet village were idyllic. I became friends with a boy my age from the next farm. The little village school had only two classrooms, each containing several grades. Here I practiced the lower multiplication tables. The village school teacher had a cane which he often used. At my uncleís farm lived his wife, Aunt Erna, her two-year-old daughter, my cousin Ruth, and my Great-aunt Emma. Additionally, Mrs. Irmgard Jaeger and her little daughter, Ulla, from Hagen in Westphalia, were quartered here.

We all lived very close together in a small area; out of one cooking pot, so to speak, and we helped with the daily farmworkwhich was handled primarily by Aunt Erna and the Polish worker, Jan. Our only workhorse sometimes had colic and, to relieve it, we had to drive it around and around the courtyard. Six cows provided the milk, several pigs the meat and a flock of chickens, the eggs. There was also a black ram whose greasy, smelly wool, after washing and carding, was spun by Aunt Emma for knitting. Mostly, I tended the cows. Once a cow happened to get mired in a bog, causing much excitement. Only with great
effort was the cow freed.
In the summer months, we gathered blueberries, cranberries and mushrooms. On hot summer days, we children bathed in the Stepenitz, a small river.

After the rye harvest in August and the potato crop in October, the threshing machine was started up in the barn and, with a deafening din and much dust, the grain was threshed. About that time on the farm, a pig was slaughtered; sausage cooked and smoked in the barnloft. In winter, the horse was hitched to a sleigh and off we went through the snowy woods.

The war passed us by almost without a trace. We had no clue to the approaching catastrophe. The radio on the farm didnít work and anyhow the lock-step press of Greater Germany reflected the rosy optimism of victory to the very last day. In Summer 1943, my mother, 33, saw her favorite brother, Walter, for the last time as he drove the horse and wagon through the woods to the Honigkaten train station after his furlough
from the front. Along the way, he confided to her that the war was lost and that he considered Hitler and his henchmen as criminals. In Russia, he had seen more than enough: "From non-commissioned officers upwards, all of them are pigs. I don't want these sons of bitches to win. I have the feeling that I will become a Russian prisoner and never return."

Walter felt strongly that Jan, the Polish forced laborer who substituted on the farm while he was away on duty, should be treated well. Throughout Walter's furlough, Aunt Erna, his wife who had treated Jan curtly, lay in the isolation ward of the Gollnow hospital with a infectious illness, and he could only come close enough to call to her from the street. His last letter came in August 1944 from Rumania before the Rumanians switched allegiance from Germany to the Soviets. That sealed his fate. From then on, he was considered as "missing".

Refugeeing

In January 1945, my father was once again at home on furlough from the front. At this time, we experienced in Pomerania the first of the refugees streaming out of East Prussia, who were billeted with us overnight and then went on their way the very next morning. As the front drew every closer, the wagon with the rubber tires was loaded with the most important things for the evacuation flight, such as bedding, clothing and foodstuff. China, silverware and valuables were hidden in chests and buried in the garden behind the house. When we would come back after the war, we would again retreve these things. My mother sewed backpacks from bedsheets. Our flight could begin only after the authorities gave permission. In the cold weather of early March 1945, the official order came. Evacuees may leave the village; residents still have to stay. I was 10 years old; my mother, 34; my father was a soldier in the retreat of our armies in the West. Two and three layers of underwear were put on, and full backpacks, sewn from sheets, were shouldered. We took Aunt Erna with us on a wagon to the Kantreck train station. There we spent days waiting for a train. More refugee trains passed us by. Meanwhile, I was sent one more time back across the narrow-gauge railroad tracks to pick up some forgotten item. My mother waited anxiously for my return. The horizon of the northeastern sky glowed fiery red.
Already the Russians were answering the telephone at the next train station to the north. It was enough for us that we were aboard the last train, thanks to Irmgard Jaeger from Westphalia, a fellow evacuee and later a friend of the family who, with persistent courage, opened the doors of a coal car from outside, and in spite of the strong resistance by passengers, we managed to enter. The open freight car, in which we escaped from the Russians at the last minute, carried us through burning Altdamm and Stettin farther westward. For the stretch to Stettin, which normally took an hour by a local train, our refugee train needed a week. Again and again, the train stood for hours in the middle of nowhere while emergency repairs were made on bombed-out rails. It was risky to
leave the train for personal relief. At any moment, after a short whistle, the locomotive could again pull away. Machinegun fire from the Russian "Sewing machines" (fighter planes) raked retreating German military columns on the parallel highway, but spared our refugee train. From Stettin, it took one more day to reach our destination, which was still unannounced. Only once in a while, the train stopped to unload several children's corpses or old people who had died from exhaustion. At the request of thirsty passengers in the car, a man in an SA uniform brought a bucket of drinking water from a railroad workers shelter. In Grevesmühlen in West Mecklenburg, shortly before Lübeck, the train stopped and everyone had to get out. There in the straw-filled assembly hall of a Protestant church, we stayed for a week together with many other refugees in our first emergency quarters. On the next day, I was unable to walk. My feet, which had frozen in the open railroad car, were
slowly healing. A boy my age had to have his frozen toes amputated. Together with Irmgard Jaeger and daughter, Ulla, we stayed with Mr. Matthies, a housepainter, at Wismarschen Strasse 67 - two women and three children sleeping on straw-filled pallets on the floor of one small room.

As we learned much later, relatives remaining behind in Dischenhagen were over-run by the Russians and experienced horrible vandalism and personal harm. First, they resolutely dug up the chest we had buried in the garden just a few days before. During their advance through East and
West Prussia, they were able to accumulate more than enough experience. Drunken Russians brought up jars of preserved blueberries from the cellar and threw them against the wall of the house, because they held no vodka; dragged out feather comforters and slit them open; poked with
pitchforks around in the hay where the women had hidden, and reveled in orgies of rape. From this, we escaped just in time!

Grevesmühlen in Mecklenburg

The war was in its last spasms. After my 10th birthday in Grevesmühlen, I was disappointed that I could not become a Wolf Cub in the Hitler Youth, but my mother thought that was no longer appropriate. Despite all the talk about victory and hopes for miracle weapons, the Führer and his
Hitler Youth undoubtedly were approaching the very end. The dream of world mastery by Greater Germany was no more. In April and early May, German military columns and endless lines of refugees fled together from German-controlled areas both in the East and West. The refugees, with
their horse-drawn wagons, bivouacked in back alleys and garden paths; the soldiers in the woods and fields. The "Heroic Dead of the Führer" were proclaimed. Early in May, white flags were hoisted and I was told that I should no longer use the "Heil Hitler" greeting because that time
was past. I could not at first understand because, being only 10 years old, I had never associated this greeting with "our Führer." For me, a "heilhitler" meant the same as "Good day." There was no battle in Grevesmühlen. Only one house was destroyed by a bomb, which was intended for a railway bridge nearby. Several SS fanatics hauled a white flag off a watertower and there was a wild exchange of fire between them and the German soldiers who had hoisted it. Storage depots were given up to plunder by the people.

The War is over

The first Jeep with a white star on the hood drove through our street. The Yanks arrived peacefully. Through a loudspeaker, they announced in German that the area would be a Soviet zone; there would be a nightly curfew, and no one would be allowed to leave. Cameras and similar valuables had to be brought to the town square where they were commandeered by the occupation forces. Our simple Klappbalg camera, which had survived the flight, thus found its way into "enemy hands." We saw our first Negro. The Americans were replaced by the British and we were amused by soldiers in plaid skirts with bagpipes parading at the square. The foreign soldiers ate white bread and, once in awhile, a German child luckily received a piece of chocolate. Around Grevesmühlen,
the Tommies set up several giant prisoner-of-war camps in the fields under open skies. Later, Uncle Hermann explained that he was detained in one of those large camps at Grevesmühlen. The only protection against cold and rain were holes in the ground. Schools were converted to military hospitals. Practically every day, a horse-drawn wagon with corpses in paper bags drove from there past our house to the cemetery. Every couple of days, the town crier with his handbell went through the streets, shouting the latest news from the military administration.

My father got rid of his army uniform in Lübeck and got a postal uniform. Wearing it, he walked about 40 kilometers to Grevesmühlen, where he met us in May. He made it by only a hair's breadth because the nglish troops controlling the route did not know the difference between the uniform of a soldier and that of a postman. Also Hans Jaeger was able to get through to Grevesmühlen as he fled from the advancing "Ivans." In our small quarters, we had now to make additional room for two men. Despite official laws forbidding their departure, Hans Jaeger and his family started toward the West and his native Westphalia. He was afraid of the approaching Russians and their horrible behavior, which he had actually witnessed on the Eastern Front. We didn't want to go farther West because we were still hoping to return to our native Pomerania, but we were also happy to have a roof over our heads here in western Mecklenburg.
In summer, on 30 June 1945, I was on my way to pick peas in the field of a large estate nearby when someone suddenly cried out, "Go home right away! Curfew!" The British pulled out of our area, and the Russians came in. During the following night, several Russian soldiers came with heavily-loaded old trucks, eventually followed by a tank destroyer and a column of singing soldiers with a choral leader and a responding chorus. A refrain from the Russian song sounded to us like "Liverwurst, Liverwurst with a bit of sand in it." The Soviet troops in the small,newly occupied West Mecklenburg cities between Wismar and Lübeck were no longer as wild as in the combat zone which they had already conquered. Several infringements occurred here and there in the outlying villages. In a neighboring shooting gallery, a brass band was stationed and each day devotedly practiced anew the "Triumphal March from Aida." Russian patrols searched the houses for former German soldiers. However, nothing happened to my father. He came safely through the war and was spared imprisonment.

We pulled a handwagon into the woods, searching for branches, brushwood, pine cones and tree roots to use as fuel for fireplace and stove. The Russians cut the timber for their own needs, and sawed the trees off at a more comfortable chest-high level, so we then gladly hauled away the remaining meter-high stumps. One of the Russians
chopping down the trees spoke some broken German and shared haltingly his world view, "Hitler is shit; Stalin is shit; it's all shit!"

In the immediate post-war days, epidemic illnesses raged which lack of medicines and inadequate hygiene could not restrain. So, because no serum was available, we lost my sister Inge-Lore, at age 3, to a rampant and deadly diphtheria in the summer of 1945.
Under Polish rule, my father got through one more time to Stettin, where his parents still lived in their old residence. With them was quartered a Pole by the German name of Müller, who envied their Polish name and convinced them to stay because the Germans would return. So they refused father's offer to take them to the West. However, in 1947, they were expelled, head over heels, by the Poles. Grandpa Julius, 70, died from a heart attack on the trip westward from Stettin and Grandma Johanna joined us at Grevesmühlen in our little apartment on Bahnhofstrasse and later resided in a home for the elderly. Grandma was a convinced Jehovah's Witness, even more so after her second son, Werner, my godparent, who lost his life "for Führer, folk and fatherland" as a member of the Waffen-SS in the Polish campaign. From then on, she wanted nothing more to do with "our Führer." Uncle Werner had joined the SS, more by chance than choice, and more from lack of a job than from firm convictions.

Everyday there were long lines and hours of waiting for a loaf of bead at the baker's shop, for a can full of whey or skimmed milk at the dairy, or for a bag full of bran or groats at the mill. The Tannenberg miller was recognized as a true original. Very often he would only sell his goods after those waiting in line sang the German folksong, "Das Wandern ist des Müllers Lust" (Wandering is the Miller's Delight). For a kiss from an attractive woman, there was an extra measure. Horse meat prepared as Sauerbraten or meatballs topped the list of special treats. The many old nags pulling the refugee wagons from conquered German areas in the east, as well as surviving military horses, found no adequate fodder along the way, but only the slaughtering knife. A large problem was the matter of shoes, especially for growing children. Hard, dried-out old leather from dusty shoes found somewhere in an attic corner would be nailed to wooden soles. So, in wind or weather, one was able to at least walk outdoors.
Father soon found work in an auto repair shop and shortly thereafter as a driver for the postal service. Due to the gas shortage, his first vehicles ran on a synthetic gas, called "Holzgas," produced in a wood-burning generator. So,we always had enough wood to heat and cook. His job as a driver for the postal bus service made it possible for him to get eggs and bacon which passengers from the country slipped him in exchange for a trip to the city. Additional earnings from my Mother's sewing and knitting also helped us survive this period of hunger and want after the war. The motto was "Take something old; make something new!" Parachute silk, blankets and military uniforms were converted into civilian clothing. From the yarn of parachute lines, table clothes were knitted. From farmers came bartered eggs, bacon or butter. With entrepreneurial flair, the dairy owner in Lübzin, Herr Proske, rebuilt the cheese factory in Grevesmühlen. From then on, as payments to my mother for sewing, there was a local specialty cheese in every production stage, from very fresh to over-ripe, with and without maggots. The Proske's youngest son, Rüdiger, who was my age, was a good friend of mine for awhile.
In 1947, we slowly managed to get our own home again when the Proskes moved out of their apartment at Bahnhofstraße 65, and rented it to us. The first furniture of our own came from some Russians in payment for sewing my mother had done.
A return to West Pomerania was no longer thinkable. Grevesmühlen was our new home and I spent the critical years of my youth there.
In the first post-war months, I played with children my own age in neighborhood gangs. When we strolled through the fields, a turnip often was "slaughtered" there and quickly eaten. I became friends with Hans Konag, born 1 September 1934, one of the refugee boys my age and son of an estate owner from Malwischken in East Prussia, who also now lives on Wismarschen Straße.
School Days in Grevesmühlen
After many long months, the school system started again in 1946. I had lost one year. I completed the fourth grade in Grevesmühlen with Frau Daniels as teacher. The fifth and sixth grades, I also spent in the Fritz Reuter School in a boys class.
I can still remember the names of several classmates: Günter Dankert, Eberhard Dettmann, later a cabinetmaker; Karl-Heinz Drews, born 18 April 1935 and later an NVA (East German People's Army) Officer; Ingo Eggert, born 3 August 1934; Lothar Gebühr, later a physician in Flensburg; Werner Gollub, born 22 December 1934; Ulrich Hinkelmann, then rather average in class standing,but later a brilliant physicist; Christian Martens, later a smith, truck mechanic and machine tool engineer who remained all his life in Grevesmühlen; Adolf Möller, a farmer's son from Grenzhausen, who was in our youth group and brass band, and was later a forester in the Rhineland and our guest in 1960 at Jörg-Michaels baptism in Dortmund; Heinz Moos; Erwin Nordengrün; Karl-Friedrich Nordengrün, later a painter in Delmenhorst; Rüdiger Proske from Lübzin; Werner Rozin; Hans-Georg Schmeling, born 1 Nov. 1934; Manfred Schröbler, later a forward with the Hansa-Rostock soccer team; Klaus Schüler, later a committed Marxist; Gunter Stappenbeck, born 2 May 1935; Kurt Weiss, later a civil engineer, and "Ganther" Wulf.
Mister Eichert, an over-70 East Prussian, was reactivated to serve as our class teacher. He was strict,but engaging and shared with us sound fundamental knowledge and ethical values. I have much for which to thank him. He always quoted German proverbs, ballads and poetry over and over for us to memorize. He especially liked Matthias Claudius' "Winter Song." In my memory, I associate the first lines--- "winter is a hardy man, very solid and durable. His skin feels like iron. He doesn't shy away from sweet or sour"---with Herr Eichert's story that he washed each morning in cold water, even in winter, and rubbed down with a cold, wet towel. Also, he impressed on us the Potato Song by Matthias Claudius which I still have on the tip on my tongue today: "Pastries here, Pastries there, what do we care about pastries..."
When he taught us Das Lied von der Freiheit und dem Vaterland (Song of Freedom and Fatherland) by Ernst Moritz Arndt, he regretted that he could teach only as far as the verse about the Fatherland, but was forbidden to teach the verse about freedom. One day he told me never to become a teacher, because I would have to submit to official political doctrine. On 30 July 1947, at the end of the 5th grade, Herr Eichert wrote on my report card: "Because of your constant diligence and enthusiastic participation, your performance was always good." I was in seventh position in a class of 28 students. In German, I ranked (2 on a scale of 5) and arithmetic (2); also Geography (2), Biology (2), Russian (3), Drawing (2), Music (2) and Physical Education (3), later also History (2-3), Physics (2) and Chemistry (3). In German, I always felt somewhat confident. On 18 March 1948, before the assembled student body in the Grevesmühlen theater, I was awarded a certificate of excellence for my essay, which was the best in a competition celebrating the 100th Anniversary of the Revolution of 1848.

For lack of qualified Russian teachers, anyone could get a position as long as they knew some Russian, whether they were pedagogically qualified or not. My first Russian teacher was such a person. We had to learn the verses of a few Russian songs and several sayings, so that our skill could be proven. It was not much better with our next Russian teacher, who we called "Babushka." As I advanced with boys in my grade from Eichert's class to the secondary school, Russian was especially difficult for me. It lasted only one short year. Then all lower classes were included in the "German Consolidated School." We came to the Scholl School where, as 7th and 8th graders, we continued with our former teachers, Mrs. Zellner (Russian) and Miss Wiggers (German).
In my class were Anneliese Arendt, born Oct. 1934; Ilse Au/Mass, born Dec.1934, now living in Bad Bramstedt; Walter Brüdigam (deceased); Hilke Castensen, born 14 Oct. 1934, now in Hamburg ?; Helga Deprie, born 31 Dec. 1934; Edith Ebell/Bindernagel, now living in Rostock-Lütten; Ingrid Freitag, later a teacher in Grevesmühlen; Marianne Grönecke, now living in Rostock; Wolfgang Hartmann, now a chemist living in Chemnitz; Gerda Höckrich, born 21 Sept. 1934, married Rinnert and living in Grevesmühlen; Rotraud Hoffmeister, supposedly married and living in the West; Ilse Kelling, now in Hamburg?;Karen Knakowski, born 1934 (deceased); Renate Krimlowski, born 30 Dec. 1934; Ulrich Liebsch, supposedly living near Frankfurt am Main; Jochen Luckmann, living in Hamburg-Rissen; Christa Lüttjohann married to Wolfgang Manja, living in Grevesmühlen; Christian Martens, self-employed master truck mechanic in Grevesmühlen; Horst Nagler, born 7 Aug. 1934, retired accountant living in Esslingen; Inge Neumann, born 23 Aug. 1934; Marianne Pieplies, married and living in Grevesmühlen; Siegrid Raabe; Sabine Rade/Schneider; Anke Reiher, married to a physician and living in Schwerin; Peter Reiher, born 14 Oct. 1933, later a dentist in Gerolshofen; Werner Roxin, later a roofer (accidentally killed); Dorothea Saborowski, saleswoman; Ivar Veit, from the Baltic states and especially talented as an illustrator; Hans-Jürgen Wagenknecht; Lieselotte Wilms, born 22 April 1935, supposedly living in Munich; Klaus Winter, later a cameraman with DDR-Television.
On 28 April 1949, my mother was 38 and I was 14 when my sister, Karin, was born in Grevesmühlin, filling the void left by Inge-Lore's death.
At that time, I earned a little pocket money one night a week with Hans Gottschalk, a friend, in the back-breaking work of setting pins at the Ladies Club bowling alley. I took a second job working two hours in the afternoon twice a week for a naval ropemaker where I helped draw out hemp line of different lengths in his ropewalk.
At the end of the 8th grade, we had to take a final examination. I left school after the 8th grade, because I was not good enough with languages required for theological study at a university. So I decided to become a Deacon which requires certified training, but not a high school diploma. Beyond scholastic achievement, the "Abitur," or high school diploma, required appropriate "socialistic qualifications" as well as political conformity. At first, I wanted to learn to be a dental technician and became an apprentice at a small private laboratory. I thought that my boss was completely satisfied with me. After four weeks, he suddenly declared that I was not qualified for the dental field and that I had leave within the remaining three-month trial period.That was a hard blow which left me feeling inferior. Not long afterward, I learned that a classmate, who was a poor student, got this apprentice position because of her father's relationship to the laboratory owner. The owner had only one position for an apprentice, and I was in the way.
Until my 10th year, I had no relationship to the church except for my christening as a infant in the Bugenhagen church in Stettin.



Bugenhagen church in Stettin

In der

1906 bis 1909 erbauten und von Jürgen Kröger entworfenen neogotischen

Bugenhagenkirche

(heute St. Adalbert gewidtmet) wurde ich am 1. Ostertag, dem 21. April 1935,

getauft

.

W tym zaprojektowanym przez Jürgena Krögera, a wzniesionym w latach 1906-1909 neogotyckim kosciele Bugenhagena (dzis poswieconym sw. Wojciechowi), bylem ochrzczony w pierwszy dzien Wielkanocy, 21 kwietnia 1935 r. Kiedy w Zdrojach (Finkenwalde) dzialal Bonhoeffer, ujrzalem wlasnie swiatlo dzienne i zaczalem uczyc sie chodzenia i mówienia.
My father was completely uninterested in the church, but my mother, who was not an especially devout woman, went more often to church and said bedtime prayers with us children each evening. When we landed in Grevesmühlen in Mecklenburg after our flight, it was about a year until public life again stabilized and the schools began operating. This interim void was filled with the creative activity of Hollmann and Dieter Kuschfeld, two dedicated Christians who had fled from East Germany and had reintroduced a children's worship service in the Grevesmühlen church.
Installed as the official pastor in Grevesmühlen was the Provost of Münster, a small, thin, white-haired and very solemn man, who under normal circumstances would have long since been in retirement, but, due to the war and its aftermath, still filled his office because men fit for military service were "in the field" and later in prisoner-of-war camps, and there were then no women serving as pastors, except as a substitute here and there.

The old Provost preached his Sunday sermons in a soft, somewhat tired voice, and occasionally conducted wedding and funerals, and confirmation instruction for large groups, but had neither the strength, time nor charisma for work with children and youth.
The second pastor, Friedrich Wilhelm Gasse, was incarcerated for many years as a Russian prisoner-of-war.
When my mother saw the invitation to the children's worship service on the church bulletin board, she encouraged me to attend "Sunday School." Kuschfeld and Hollmann were really engaged in their ministry of religious education for children which was a blessing to all. Each Sunday, they gathered five to 10 dozen children in the church. They had a circle of helpers, who in age-graded sub-groups, explained biblical texts in ways children could understand. Each child received a bound portfolio filled with mimeographed songs and pictures of Bible stories to which more were added each Sunday.

Each Sunday, I went regularly and willingly to the childrens' worship service and enthusiastically sang the pietistic hymns, often from England, such as:"When we enter Canaan free and clear from sin. Look, Jesus, I am coming!" or "Sing gladly to the Lord, young Christians." With me, the holy seed fell on fertile soil and flourished.

Later, I was myself an active assistant with the children's worship service. Before the beginning of confirmation instruction, I was invited to the join the group of church youth, which, following Mr. Heydeck, was led by Pastor Karl Fischer. Fischer was not an especially "pious" man, but somewhat tough, rough and blustery. He came from the Black Forest, had completed the deacon's program at the Rauhe House in Hamburg and then found a position as a social services worker with the state Youth Office in Hamburg. Because his wife came from Reppenhagen, a village near Grevesmühlen, he ended up after the war in Grevesmühlen where he served several years as a deacon. At the youth group meetings, he told us in detail about his wartime experiences in France and his close combat with American soldiers. In the villages near Grevesmühlen, he conducted worship services. On these trips, I often accompanied him together with other members of the youth group. Among these young people, I met Hans Gottschalk who became a close friend and remains so after all these many years.

With Karl Fischer and about nine other boys, including Dieter Polster, Horst Nagler, Hans-Georg Schmeling and Hans Gottschalk, we took a two-day trip to the Baltic coastal cliffs at Brook and underway stayed overnight at Reppenhagen in a haystack at a forest ranger's residence. It was a formative and bonding experience: the singing, the fellowship and the activities which touched my heart, above all, bound me to this group of Christians. We practiced and conducted a nativity play and other Gospel plays. Sometimes I was in a leading role, like Joseph in the nativity play, or in Die Trossbuben, which we presented several times to a full house in the Grevesmühlen church and in neighboring village churches.
With the growing numbers of youth, Provost Münster had enormous groups to instruct in confirmation classes where a large part of the Little Catechism, Psalms and choral responses were still memorized in the traditional way. In the Soviet occupation zone where no religious instruction in public schools was provided, the churches were engaged in catechetics and, on their own, organized the "Christian Education" in which I participated. One of the catechetical instructors, Miss Stolz, organized a recorder group and taught me how to make music or Flötentone on this instrument. Together with Kuschfeld, Willi Gottschalk,Hans's father and a devout pietist from West Prussia, organized a brass band in which I also learned to play various instruments or Tröten including the tenor horn, and later the trombone. Dieter Kuschfeld played cornet, and Hans Gottschalk, the flugelhorn and later the tuba.
So I became a devout boy and an even more devout teenager. Hans Gottschalk wanted to be a minister, and in my youthful enthusiasm, I wanted to be a missionary.
---
Sorry, I speake only little english. This text became translate mechanically. He is not consequently in correct English:
---
Who translates t Who translates this text for me in correct English gratuitously?
---
Fifty years later

I undertook a bicycle-trip of Hamburg after Stettin and around the Oder-lagoon over the islands Wollin and Usedom into the world of my childhood and origin around.
...Since a Personen-Fährverbindung exists some years between old - and Neuwarp. In approximately half-hour distance, one can translate over the Neuwarper lake, a bay of the Oder-lagoon, on the Polish side. Many bus-parties and private-tourists make use and native border-inhabitants of the ferry, they use to the purchase in Poland. So also I go with bicycle on board and translate after Nowe Warpo. From the ship from, the place works with his old constructions, that most probably still from German time, quite gray and dismal. A new investor with a modern customs-control-station, that weißrote Polish ensign and young customs - and border-watch-servants in dressy brown uniform take me in reception kindly. Immediately behind the customs-gate, an extensive Buden-Markt, in which the tourists can shop, lies. I don't look around there longer, climbs on my wheel, as soon as the condition of the street allows it and drives in southern direction. I notice that of fresh and clean canceled shelters at the bus stops, that not, like frequently with us, signs of vandalism carry. Over Brozóki (early Althagen), I drive through beautiful pine-forests with many Blaubeersträucherns to Trzebiez (goat-place) where I put in a pause, me a Polish itinerary "plan Województwa Szczecin's region" buys and me the painting fishery - and the modern sport-boat-harbor looks at. Also some German boats lie there. With a German sailor, I go down well and come with him into a very interesting conversation: He comes from this area and has although he is younger than I, still memories at the time, as he lived 1945/46 as 5 until 6-year old child with his grandmother under the Poland. His grandfather has shot the Poland because he carried a mustache after Wilhelmian type and was therefore regarded for them as militarist. He anchors with his boat since frequently some years in the Stettiner area in order to freshen old memories and knows in the area apparently well. He has his solid residence in Neustadt in Holstein, a second residence on Majorca, where he often sails through the Biskaya. - there wants also to settle he completely soon. It turns out that this man until few years ago as captain to the sea his sailor-pension drove and now enjoys. I still can him/it for my last carried along copy my "sailor-fates" excites. After meal (Stärkung) through my lunch shopped in the morning in Ückermünde in the sun on a bank at the harbor, I bicycle at the industry-place policy (Pölitz) to my birthplace Stettin (Szczecin) past where I can greet that me in the early evening from my childhood familiar Oder-bulwark and the hook-terrace. From here, I was with my parents many times and once also alone with the steamer over the dam ettes sea after Lübzin, the home town of my mother übergesetzt. I already reported on it. Today, there is not such a ship-connection. I am not the first time after the escape from behind-Pomerania in this my home town belonging now the Poland. For a big part of that here now living Polish citizens is also home it. Most up to 52-year old were born also here. It will lead people older for us, whom we still have good memory at them here spent childhood (Kinderjahre), to deeply rooted instinctive and intellectual speculations however again and again if we are confronted directly with this part of our past. We have this loss of the home the rat-hunter to owe from Braunau, that without eye full of power-greed that "people of the poets and thinkers" and almost whole Europe into the eddy tore and into deep blame involved. I would not like to live here again permanently and grant them the Poland here in two generations grown existence-right, pleases me however to be able to travel these places of my childhood freely. - First drives confess I to it me from a former Stettin-visit "Dom Marynarza ", the Seamen's Home hotel Szczecin.
Während meiner Besuche in Szczecin übernachte ich immer im

Hotel DOM MARYNARZA, Seamen's Home Szczecin.
71-616 Szczecin
ul. Malczewskiego 10/12
Tel. 091/ 424 00 01
Fax 091/ 422 85 78
man sollte ein Zimmer nach hinten heraus erbitten, da die Straßenkreuzung vorne sehr laut ist!
I know that I can sleep there also as not-sailor quite inexpensively and well and application had also done from it before some years after the reunification shortly already. It is an approximately 12-story high-rise been with a big lay-capacity in the middle of the city because of the western edge of the Grabower parks the hook-terrace at the Ulica J. Malczeskiego 10/12, corner Grabower Straße/Birken-Allee, west. All rooms are equipped with own shower and WC. A connected flat-construction lodges Restaurations - and meeting-areas. The house is in the property of the PZM, the big Polish overseas-shipping company. From my room in the 8. stick can I far over the Oder until after Altdamm and over the dam ettes sea looks. On this day, I have only 72 km with an average speed of 16 km/hs in 4 ½ hours of pure duration managed. After I have stowed my matters in the room and have telephoned home, I undertake another bicycle-city-round-trip through Stettin up to the become dark-development. I become conscious that Stettin must have been a very generously aimed beautiful city and is also again today: Wide streets, many big places with circle-traffic-junctions. In the bomb-war and with the fights in March 1945 went into the breaks very much and was built from the Poland again, but as well many old buildings stand. Zumindestens became the old infrastructure of the route, sewage system ect. übernommen.
At the beautiful summer-weather, many of the Polish citizens of this city sit before the restaurants and in the beer gardens sociably outside. Only isolated I see drunks, but a vodka-corpse is in the middle of the flooding traffic because of a streetcar-stop and it lasts long until a mobile ambulance takes care of them. The urbane human dirt of the city with addiction-problems and professional beggary (Bettelei) is represented in Hamburg surely considerably more strikingly. The postwar-Poland was prolific and so the Polish is a young people. In the socialism, the education was promoted so that a good educational-stand should form the reason-stick for a good future economic-development today. Everywhere, Szczecins are visible the symbols of the free market economy in the city today, the most clearly at the reconstruction a the whole city of far outstanding modern bank-palace. Also in the late evening, the life pulsates in the heart of the city. The approach at the future common European economy does visible Fortschritte.
Approximately 1944, I had visited in the age of 9 years my grandparents of behind-Pomerania from the last time per track in Stettin and had been surprised exactly by a heavy bomb attack. My grandmother had run with me into a public air raid protection-bunker in the low-cellar of an authority-building in the proximity quickly in order to look for protection there. There rumste it with the heavy bombardment considerable. After the all-clear, it had in immediate proximity bigger damages gegeben. I find also the old in a pitiable condition situated house in the Bergstraße (mountain-street) / corner Elisabethstraße in railway station-proximity, sees side 1/5 of my autobiography, in which on the father's side my grandparents and we up to my 4. year of life had lived. Almost all neighboring houses had already fallen before end of war of an air-mine to the victim. I climb in the stairwell up to the 1. stick up and sees me there.
On the next morning, I hit an international language-mixture and racially assorted public of drive-people at the breakfast-buffet of the sailor-home as I knew it in the last years in the led sailor-hotel 27 years long from me at the foot of the Hamburg Michels. A difference falls me into the eye however: While we had to be solicitous in Hamburg for expenses-reasons to save at personnel, a more abundantly staff service is offered here: From the door-guard in uniform standing in the front door over several ladies at the reception, over which as well to late hour present level-lady until to the many-headed service-service in the breakfast-hall. That would be with us to appropriate rents no longer financier-devoid of. After the good breakfast, I pack my seven matters on the wheel and drive directly to the big Oder-bridge and over it away with active automobile traffic east in direction Altdamm, now Dabie named, where I my old school, (sees side 1/7 of my autobiography) and the old church again can greet. Otherwise, the place is hardly to be recognized. Our house at the outskirts should still have confessed with end of war. Since however not yet seemed the Poland after the war certainly immediately, whether they would keep them them from the allied winners spoken kernel-German areas, many should still stand remained building dismantled and the construction-material has been managed to the rebuilding to Warsaw. Our residential-area at the eastern forest-edge Altdamms near the paper mill at the Stargarder street now belongs to a big industry-terrain. - I drives be parallel the old country road in direction of Gollnow to the railroad-route, on which we needed from Kantrek until Stettin a hour earlier, with the escape beginning of March 1945 because of the continuous fire of the embankment a week long on the way however. - Approximately three kilometers behind Dabie, still before the junction into the new expressway in direction Goleniow, I turn left, about over the villages Pucice, Czarna £aka and Mokrzenica, Wilhelm-field and highland, after Lubczina, the former Lübzin, to drive. The street, that consisted of sandy tracks earlier, my parents have driven with me per bicycle more frequently if we visited the relatives on the big-maternal yard in Lübzin. She is asphalted hay and with the bicycle very well passable. At the former Damper-Anlegestelle (ship-habour) in Lubczina, a harbor now declares as sport-boats, in which also two sailors have fastened with German ensign at the stern. The bath-institution is equipped with a big plastic-chute. What of the village is still extant, works opposite earlier quite dismal. I recognize Proskes dairy. At the house of my grandmother, some inhabitants are employed on the yard. As a man steps out of the front door, I greet him with "dzien dobry", my single Polish vocabulary and expresses him, so well it without Polnischkennnisse goes, here has earlier "moja Babuschka" lived, in the hope, as Slav, he could understand at least these Russian words. In such situations, one is very helplessly because of lacking language-knowledge and I want to have the Zivildienstleistenden born as interpreters, who had effected me in the sailor-home, itself in Szczecin here, years ago with his father to Hamburg drawn was, now and then still his/its mother in Szczecin Polish visited and perfectly masters as mother tongue beside accent-free German. I had talked with him/it about the plan more frequently to visit the old home together once. I had had to however now realize my trip-planning spontaneously, without I being able to him contacts and they would have had to probably take the car to second, I wanted to travel per bicycle however so that an agreement appeared to me impossibly. From the "reaches house", in which grandmother, uncles, aunt and cousins, (sees side 1/8 of my autobiography) had lived, two fragments only stand. This house had brought the German militarism strong victims. In the 1. world war had felled the host, my grandfather Karl Dollerschell, because of a mutilated telegram as member of a criminal-company before Verdun. Two of his sons, Franz and Walter, didn't come from the 2. world war home. - I proceeds Gollnow in direction from Lübzin from, bends before the bypass into a smaller street one, that should lead according to card after Modrzewie (green-eyrie), then north however. I land in a dead end. I entrust myself an unausgeschilderten forest path in eastern direction, that leads me at the Gollnower Auto-Umgehungs-Rollbahn (railwey). There lies all 100 to 200 m in the wide way with strong automobile traffic northward, at some sections also more narrowly together, women, children and also isolated men in the ditch and sells blueberries and basket full (körbeweise) chanterelles in glasses and plastic-pails. In my childhood, we had harvested here in these forests in the summer itself diligently. Since I carry along no griddle on my boneshaker, I must deny myself the fungi, fully buys me one glassful blueberries however. Later, I myself find positions with dense berry-trimming. Shortly before hammer I picnic at a grill-station in the forest and eat my blueberries to the Schaschlik. Then, I still bend before Hammer (Babigoszcz) into a forest path right an and drives after old memory without signposts into the direction, in which Dischenhagen be locatet must. My bearings-sense doesn't deceive me: I find my goal: Neu-Dischenhagen (Dzieszkowo), where I from 1943 until March 1945 together with mother and sister on the farm of my uncle, (sees side 1/8 of my autobiography) because of the air raids on Stettin evacuates lived have.
Before the Hoftor, a cow is chained to the grass. Where a pump stood by our time, a Ziehbrunnen is now used for the crest of the water. From the man-high spruce-hedge, that surrounded the garden, in which we had buried dishes and silver before the Russian, who however immediately had these after the conquest of ausgebuddelt, 1945, it stood seven years ago as I was the last time by car here, still individual full-grown trees. They were now missing. The Polish "lady of the house" is alone on the yard this time and apparently recognizes me. She/it is very kindly and offers me a coffee, that I refuse, however, because I don't want to be long, but I am very grateful that she shows me all areas, that are to me known from the childhood. The last times, I had only advanced until into the kitchen where the German tile-inscription is still resplendent blue on white in Gothic characters: "Itself moves blessing brings!" the former host, the brother of my mother, Walter Dollerschell, the last time was 1944 in this home. He/it was valid with end of war as misses at the Ostfront. Never, we have heard something from him/it again. - Ways of the already mentioned language-problems is only short my round. I still drive in the village of Dischenhagen (Dzisna) past my old school and please me particularly over it that the old small village-church, that had done another very scruffy and almost dilapidated impression with my last visit, has now been restored apparently and is resplendent in well groomed condition.
Some months later discovers I in a treatise over ship-motives in church-windows the sentence: "1591 was put in a jewelry-disk into a window of the pommerschen church of Dischenhagen with the representation of a three-master and the inscription "Karsten Beesse". At the bridge over the Stepenitz-creek or also Guben-Bach named, I linger a moment in order to remind me of it that I have bathed as child here on hot summer-days. There comes three angetrunkene Poland with bottles in the hand on me then suddenly. I become quite uncomfortable, because I don't understand what they want from me. Surely, they are completely harmless. I take the trouble, left and, to appear kindly, and is glad, that I can proceed unchecked. So I bicycle the well known street after Hammer (Babigoszcz) to the car-expressway and drive these in southern direction until street proceeding to the next in direction wests after Stepnica (Stepenitz) then. I bend into these an and where my aunt Erna had lived before the marriage with my uncle Walter first bicycles loudly singing through forest until Widzensko (Hohenbrück) always. Then, it still goes through the extensive forest-area "Puszcza Goleniowska" further over Zirlonczyn after Zarnowo (Altsarnow), from where my grandmother of Martha Macheel came, before she after the confirmation to Komerzienrats after Stettin "in position" (working) went. Further, I bicycle on a beautiful, little of automobile traffic used, street in direction Wolin and has tempted me unfortunately, one in the card recorded "street ", to choose along the Ostufer of the Zalew Szczecinski (Stettiner lagoon), because I hope, there on touristische infrastructure and with it on a "pokój ", to push a bed for the next overnight stay. I have been wrong badly about my hopes however and land in her/it "Wallachei" at the "end the world "on an excruciating sand-way. But I conquer also him/it and comes thoughtless-prove despised asphalt-street with considerable loss of time before Wolin on them of me again shortly. The only housing, that Wolin would have been able to offer me, is unfortunately booked full because of a festival with big people-casserole. First one still gives me hopes and encourages me to wait for the boss of the house, that on the festival on the way is, however then the cancellation comes after I have lost time almost one hour. Also my hope, on the way in direction Swinoujscie, to find a remains for the night soon, deceives. So, I drive with strong automobile traffic through a hilly forest-area until after Miedzyzdroje (Misdroy), a big and apparently important spa at the Baltic sea, where I receive cancellations at several private-quarterses and hotels, until finally I in the twilight against 22 o'clock after 121 km bicycle in 8 hours and 22 minutes with an average-speed of 14,7 km/hs in the hotel descendant from socialistic days "Slavia "for a proud price, for which I would have been able to expect luxury in Germany, a lodging exactly acceptable still finds. The place swarms with swimmers and tourists. Polish divas, rigged like peacocks, strolls with upstart admirers. On the promenade is hardly to be made progress. I hear also German votes. There are several very big and topmoderne hotels in Miedzyzdroje. The beach is beautiful in the twilight. Under the people, it excites big interest, as itself a hang-glider of a motorboat at the beach along has pulled and sails with it over beach and promenade. Foyers with electronic game-vending machines have popularity like the casinos in Las Vegas. I still eat a piece of the Schaschlik-Spieß in a garden-grill-room and drink a dark beer to it. It becomes midnight and highest time over it to the Nachtruhe. Am Sunday, that 23. July 97, I leave against 10.30 o'clock and where I first look for the investor of the big Scandinavia-ferries once bicycles to the track of Miedzyzdroje through a pine-forest-area after Swinoujscie parallel. The ferry traffic after Ystadt and Malmö/Sweden and Denmark (Copenhagen) is used apparently also by several German tourists. At the railway station of Swinoujscie, on which Ostseite of the Swina lain, I look a train of the German track INC. with more Polish attention getting. I suspect that it is about a special-train, that has brought tourists at the Fähranleger. The ferry after Rønne on Bornholm runs only on Saturdays. With daily connection, I would have undertaken another excursion there. Against midday, I translate with the car-ferry on the west-side of the Swine into the actual city Swinemünde. Directly at the Touristenhafen, I find a restaurant, in which I eat inexpensively princely to midday: Steak with salad and potatoes. Otherwise, I have lived on the way usually only quite humbly: Dry whole-wheat-rolls and to it one gulp from the water - or juice-bottle, once a raw kohlrabi or a yogurt. At the beautiful weather, I can sit in the garden at the street outdoors and can guard not only my bicycle together with luggage itself connected there but can also observe, as several German trip-ships fasten at the bulwark. The Polish taxi-drivers and hawkers (for example with amber-chains) come with arrival of the ships here promptly and hope itself their business. In the pub, several German tourists have taken lodging like me. I still speak after the lunch with some of the crewmembers of the German trip-ships. One of the sailors has also lived with us in the sailor-home at the Krayenkamp already once. Then, I drive Aalbeck to the border in direction. At the street, one is wanting booth-city, in which is offered food, clothing, kitsch and art for German tourists also on this Sunday afternoon, doesn't finish built. Directly at the border thirty to forty horse-carriages park approximately and wait for customer. The border with white-red and black-red-golden border-posts and the ensigns of both nations at the control-station reminds with the raked control-strip of the former inner-German border, only this is not fortified here so mightily. Where was watched watchful on it however earlier, that nobody could leave the GDR, the vigilance is now directed toward it that no more unwarranted can penetrate from outside. The control is durchschritten per Federal-personal identification card quickly. Western lacquer and shine, good streets and for me an asphalted bicycle-wey (Radweg) it lets a home-feeling arise although I have never entered the island Usedom before. From Aalbeck on, I stick in immediate beach-proximity to the promenades, on which I drive Aalbeck, herring-village and Bansin through the in one another changing sea resorts North-westward. Herring-village is the finest under them and reminds me something of Timmendorfer beach. There is there restored already everywhere well and again built luxury-hotels and pensions. The promenades, Kureinrichtungen and Seebrücken are thanks of the construction-East-program in best condition. The old "bathtub of Berlin" apparently enjoys again moves word. Over Ückeritz and Koserow, I drive between Oder-bay and Achterwasser past Zinnowitz, Peenemünde right lets 111 lie on the street until Wolgast.
---
Diese Internetseite wurde vom früheren langjährigen Geschäftsführer und Heimleiter des Seemannsheimes erstellt, der hier sein Rentner-Hobby vorstellt.
---
- Maritime Bücher :
---
Seefahrtserinnerungen - Seefahrtserinnerungen - Maritimbuch

Informationen zu den maritimen Büchern des Webmasters finden Sie hier:
zur gelben Zeitzeugen-Bücher-Reihe des Webmasters: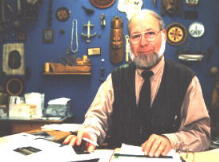 ---
zur gelben Zeitzeugen-Bücher-Reihe des Webmasters:
---
Maritime books in German language: fates of international sailors
Los libros marítimos en el idioma alemán: los destinos de marineros internacionales:
zu meiner maritimen Bücher-Seite
Maritime books in German language: fates of international sailors
Los libros marítimos en el idioma alemán: los destinos de marineros internacionales:
Diese Bücher können Sie direkt bei mir gegen Rechnung bestellen: Kontakt:
Zahlung nach Erhalt der der Ware per Überweisung.
Informationen über die Buchpreise finden Sie auf der Bücher-Seite
Zahlung nach Erhalt der der Ware per Überweisung.
Bücher in der gelben Buchreihe" Zeitzeugen des Alltags" von Jürgen Ruszkowski:
Seemannsschicksale

Band 1 - Band 1 - Band 1 - Band 1

ca. 60 Lebensläufe und Erlebnisberichte

von Fahrensleuten aus aller Welt

http://www.libreka.de/9783000230301/FC

libreka.de: unter Ruszkowski suchen!

13,90 € - Bestellung -

Seemannsschicksale

Lebensläufe und Erlebnisberichte

Lebensläufe und Erlebnisberichte von Fahrensleuten, als Rentner-Hobby aufgezeichnet bzw. gesammelt und herausgegeben von Jürgen Ruszkowski

http://www.libreka.de/9783000220470/FC

libreka.de: unter Ruszkowski suchen!

13,90 € - Bestellungen -

Seemannsschicksale

Lebensläufe und Erlebnisberichte

Lebensläufe und Erlebnisberichte von Fahrensleuten

http://www.libreka.de/9783000235740/FC

libreka.de: unter Ruszkowski suchen!

13,90 € - Bestellungen -

Informationen über die Buchpreise finden Sie auf der Bücher-Seite

Seemannsschicksale unter Segeln

Die Seefahrt unserer Urgroßväter

im 19. Jahrhundert und am Anfang des 20. Jahrhunderts

13,90 €

- Bestellungen -

amüsant und spannend wird über das Leben an Bord vom Moses bis zum Matrosen vor dem Mast in den 1950/60er Jahren, als Nautiker hinter dem Mast in den 1970/90er Jahren berichtet

http://www.libreka.de/9783000214929/FC

libreka.de: unter Ruszkowski suchen!

13,90 € - Bestellungen -

Band 6 ist geplant

- erwähnte Schiffe -

in der Reihe Seemannsschicksale:

Band 7

---

auf Schiffen der DSR

Dietrich's Verlag

Die abenteuerliche Karriere eines einfachen Seemannes

12 € - Bestellungen

Autobiographie des Webmasters

Rückblicke: 27 Jahre Himmelslotse im Seemannsheim - ganz persönliche Erinnerungen an das Werden und Wirken eines Diakons

13,90 € - Bestellungen -

- Band 11 -

Diakone des Rauhen Hauses

13,90 € - Bestellungen -

12 € - Bestellungen -


13,90 € - Bestellungen -

Conrad H. v. Sengbusch

Werft, Schiffe, Seeleute, Funkbuden

Jugend in den "goldenen 1959er Jahren"

Lehre als Schiffselektriker in Cuxhaven

13,90 € - Bestellungen -

Wir zahlten für Hitlers Hybris

mit Zeitzeugenberichten aus 1945 über Bombenkrieg, Flucht, Vertreibung, Zwangsarbeit und Gefangenschaft

http://www.libreka.de/9783000234385/FC

libreka.de: unter Ruszkowski suchen!

13,90 € - Bestellungen -

Band 16

Lothar Stephan

Ein bewegtes Leben - in den Diensten der DDR - - zuletzt als Oberst der NVA

---

Informationen über die Buchpreise finden Sie auf der Bücher-Seite

Als Schiffskoch weltweit unterwegs

http://www.libreka.de/9783000224713/FC

13,90 € - Bestellungen -

Informationen über die Buchpreise finden Sie auf der Bücher-Seit

Seemannsschicksale

aus Emden und Ostfriesland

und Fortsetzung Schiffskoch Ernst Richter auf Schleppern

http://www.libreka.de/9783000230141/FC

libreka.de: unter Ruszkowski suchen!

13,90 € - Bestellungen -

ein Seemannsschicksal:

Das bunte Leben eines einfachen Seemanns

13,90 € - Bestellungen -

Informationen über die Buchpreise finden Sie auf der Bücher-Seite

ein Seemannsschicksal im 2. Weltkrieg

Kurt Krüger

Matrose im 2. Weltkrieg

- Bestellungen -

Ein Seemannsschicksal:

Gregor Schock

Der harte Weg zum Schiffsingenieur

Beginn als Reiniger auf SS "RIO MACAREO"

13,90 € - Bestellungen -

Weltweite Reisen eines früheren Seemanns als Passagier auf Fähren,

und Oldtimern

Anregungen und Tipps für maritime Reisefans

- Bestellungen -

Ein Seemannsschicksal:

Jochen Müller

Geschichten aus der Backskiste

Ein ehemaliger DSR-Seemann erinnert sich

12 € - Bestellungen -

Informationen über die Buchpreise finden Sie auf der Bücher-Seite

Ein Seemannsschicksal:

Der maritime Liedermacher

Mario Covi: -1-

Traumtripps und Rattendampfer

Ein Schiffsfunker erzählt

über das Leben auf See und im Hafen

http://www.libreka.de/9783000221460/FC

libreka.de: unter Ruszkowski suchen!

13,90 € - Bestellungen -

Ein Seemannsschicksal:

Der maritime Liedermacher

Mario Covi: -2-

Landgangsfieber und grobe See

Ein Schiffsfunker erzählt

über das Leben auf See und im Hafen

http://www.libreka.de/9783000223624/FC

libreka.de: unter Ruszkowski suchen!

13,90 € - Bestellungen -

Monica Maria Mieck:

Mutmachgeschichten für heute

Besinnliche Kurzgeschichten

auch zum Vorlesen


- Bestellungen -

- Band 27 -

Monica Maria Mieck

Verschenke kleine

Heitere und besinnliche Kurzgeschichten

auch zum Vorlesen

- Bestellungen -

- Band 28 -

Durch alle

Nebel

hindurch

erweiterte Neuauflage

Texte der Hoffnung

besinnliche Kurzgeschichten und lyrische Texte

- Bestellungen -




einer Ausbildungsreise

und andere

Seemannsschicksale

Seefahrerportraits

und Erlebnisberichte

http://www.libreka.de/9783000194719/FC

13,90 € - Bestellungen -

Schiffe, Häfen, Mädchen

http://www.libreka.de/9783000211539/FC

- Bestellungen -

13,90 €

- Bestellungen -

Thomas Illés d.Ä.

Sonne, Brot und Wein

ANEKIs lange Reise zur Schönheit

Reise ohne Kofferschleppen

Fortsetzung in Band 32

13,90 €

- Bestellungen -

Thomas Illés d.Ä.

Teil 2

Reise ohne Kofferschleppen

Fortsetzung von Band 31 - Band 31

13,90 € - Bestellungen -

Informationen über die Buchpreise finden Sie auf der Bücher-Seite

Jörn Hinrich Laue:

Die große Hafenrundfahrt in Hamburg

reich bebildert mit vielen Informationen auch über die Speicherstadt, maritime Museen und Museumsschiffe

184 Seiten mit vielen Fotos, Schiffsrissen, Daten

http://www.libreka.de/9783000220463/FC

- Bestellungen -

Peter Bening

Nimm ihm die Blumen mit

Roman einer Seemannsliebe

mit autobiographischem Hintergrund

http://www.libreka.de/9783000231209/FC

- Bestellungen -

Informationen über die Buchpreise finden Sie auf der Bücher-Seite

Günter George

Junge, komm bald wieder...

Ein Junge aus der Seestadt Bremerhaven träumt von der großen weiten Welt

http://www.libreka.de/9783000226441/FC

13,90 € - Bestellungen -

Informationen über die Buchpreise finden Sie auf der Bücher-Seite

Rolf Geurink:

In den 1960er Jahren als

http://www.libreka.de/9783000243004/FC

13,90 €

- Bestellungen -

libreka.de: unter Ruszkowski suchen!

Informationen über die Buchpreise finden Sie auf der Bücher-Seite

Ein Leben in Krieg und Frieden als Funker auf See

auf Bergungsschiffen und in Großer Linienfahrt im 20. Jahrhundert

http://www.libreka.de/9783000257766/FC

13,90 € - Bestellungen -

Zauber der Erinnerung

heitere und besinnliche Kurzgeschichten

und lyrische Texte

reich sw bebildert

12 € - Bestellungen -

Informationen über die Buchpreise finden Sie auf der Bücher-Seite

Hein Bruns:

Roman eines Seefahrers aus den 1960er Jahren

in dieser gelben maritimen Reihe neu aufgelegt

kartoniert

Preis: 13,90 €

von Klütenewern und Kanalsteurern

Hoch- und plattdeutsche maritime Texte

Neuauflage

13,90 € - Bestellungen -

Informationen über die Buchpreise finden Sie auf der Bücher-Seite

Klaus Perschke - 1 -

Vor dem Mast

1951 - 1956

nach Skandinavien und Afrika

Ein Nautiker erzählt vom Beginn seiner Seefahrt

Preis: 13,90 € - Bestellungen

Klaus Perschke - 2 -

Seefahrt 1956-58

Asienreisen vor dem Mast - Seefahrtschule Bremerhaven - Nautischer Wachoffizier - Reisen in die Karibik und nach Afrika

Ein Nautiker erzählt von seiner Seefahrt

Fortsetzung des Bandes 41

13,90 € - Bestellungen

Winterwunder

weihnachtliche Kurzgeschichten

und lyrische Texte

reich sw bebildert

10 € - Bestellungen -

---

Informationen über die Buchpreise finden Sie auf der Bücher-Seite

Lothar Rüdiger:

Flarrow, der Chief 1

Ein Schiffsingenieur erzählt

Maschinen-Assi auf DDR-Logger und Ing-Assi auf MS BERLIN

13,90 € - Bestellungen

---

Band 47

Seefahrtserinnerungen

Ehemalige Seeleute erzählen

13,90 € - Bestellungen

---

Jürgen Coprian:

Salzwasserfahrten 2

Trampfahrt worldwide

mit

FRIEDERIKE TEN DOORNKAAT

- - -

MS COBURG

Salzwasserfahrten 5




weitere Bände sind geplant

13,90 € - Bestellungen

Lothar Rüdiger:

Flarrow, der Chief 2

Ein Schiffsingenieur erzählt

Fortsetzung des Bandes 44

Flarrow als Wachingenieur

13,90 € - Bestellungen

---

Peter Sternke:

Erinnerungen eines Nautikers

13,90 € - Bestellungen

---

Band 51

Jürgen Coprian:

Salzwasserfahrten 3

- - -




weitere Bände sind geplant

hier könnte Ihr Buch stehen

13,90 € - Bestellungen




Lothar Rüdiger:

Flarrow, der Chief 3

Ein Schiffsingenieur erzählt

Fortsetzung des Bandes 44 + 45

Flarrow als Chief

13,90 € - Bestellungen

---

Jürgen Coprian:

Salzwasserfahrten 1


Ostasienreisen mit der Hapag

13,90 € - Bestellungen

- - -

Salzwasserfahrten 4

MS "VIRGILIA"

---

Immanuel Hülsen

Schiffsingenieur, Bergungstaucher

- - -

Harald Kittner:

zeitgeschichtlicher Roman-Thriller

- - -

unter dem Hanseatenkreuz

weitere Bände sind in Arbeit!
Diese Bücher können Sie für direkt bei mir gegen Rechnung bestellen: Kontakt:
Zahlung nach Erhalt der der Ware per Überweisung.
Meine Postadresse / my adress / Los orden-dirección y la información extensa:

Jürgen Ruszkowski, Nagelshof 25,

D-22559 Hamburg-Rissen,

Telefon: 040-18 09 09 48 - Anrufbeantworter nach 30 Sekunden -

Fax: 040 - 18 09 09 54

Bestellungen am einfachsten unter Angabe Ihrer Anschrift per e-mail: Kontakt
Bücher in der gelben Buchreihe" Zeitzeugen des Alltags" von Jürgen Ruszkowski:
Wenn Sie an dem Thema "Seeleute" interessiert sind, gönnen Sie sich die Lektüre dieser Bücher und bestellen per Telefon, Fax oder am besten per e-mail: Kontakt:
Meine Bücher der gelben Buchreihe "Zeitzeugen des Alltags" über Seeleute und Diakone sind über den Buchhandel oder besser direkt bei mir als dem Herausgeber zu beziehen, bei mir in Deutschland portofrei (Auslandsporto: ab 3,00 € )
Bestellungen am einfachsten unter Angabe Ihrer Anschrift per e-mail: Kontakt
Sie zahlen nach Erhalt der Bücher per Überweisung.
Maritime books in German language: fates of international sailors
Los libros marítimos en el idioma alemán: los destinos de marineros internacionales:
Los libros en el idioma alemán lo enlatan también, ( + el extranjero-estampilla: 2,70 €), directamente con la editor Buy de.
---
Bestellungen und Nachfragen am einfachsten über e-mail: Kontakt
Wenn ich nicht verreist bin, sehe ich jeden Tag in den email-Briefkasten. Dann Lieferung innerhalb von 3 Werktagen.
Ab und an werde ich für zwei bis drei Wochen verreist und dann, wenn überhaupt, nur per eMail: Kontakt via InternetCafé erreichbar sein!
---
Einige maritime Buchhandlungen in Hamburg in Hafennähe haben die Titel auch vorrätig:
HanseNautic GmbH, Schifffahrtsbuchhandlung, ex Eckardt & Messtorff, Herrengraben 31, 20459 Hamburg, Tel.: 040-374842-0 www.HanseNautic.de
WEDE-Fachbuchhandlung, Hansepassage, Große Bleichen 36, Tel.: 040-343240
Schifffahrtsbuchhandlung Wolfgang Fuchs, Rödingsmarkt 29, 20459 Hamburg, Tel: 3193542, www.hafenfuchs.de
Ansonsten, auch über ISDN über Buchhandlungen, in der Regel nur über mich bestellbar.
---
Für einen Eintrag in mein Gästebuch bin ich immer dankbar.
Alle meine Seiten haben ein gemeinsames Gästebuch. Daher bitte bei Kommentaren Bezug zum Thema der jeweiligen Seite nehmen!
Please register in my guestbook
Una entrada en el libro de mis visitantes yo agradezco siempre.
Za wpis do mej ksiegi gosci zawsze serdecznie dziekuje.
---


meine websites bei freenet-homepage.de/seamanstory liefen leider Ende März 2010 aus! Weiterleitung!
weitere websites des Webmasters:
Diese Seite besteht seit dem 14.11.2002 - last update - Letzte Änderung: 14.10.2011
© Jürgen Ruszkowski © Jürgen Ruszkowski © Jürgen Ruszkowski